Valley Conservation Council (Staunton, VA)
---
Record of Advocacy and Communications
(chronological list focuses on written documentation accessible online)

BEGINNINGS OF AN IDEA (1999): On a visit to Torreya State Park in quest of "ecological anachronisms" during field research for her 4th published book, science writer Connie Barlow encountered the stragglers of Florida Torreya still in the park, along with pickled Torreya seeds in the park office. This venture is described, and translocation advocacy initiated, in her 2001 book and Arnoldia article (see below).
1. FIRST DOCUMENTATIONS OF TRANSLOCATION IDEA (2001): in a new book and a journal article by Connie Barlow
• The Ghosts of Evolution: Nonsensical Fruit, Missing Partners, and Other Ecological Anachronisms, by Connie Barlow, 2001 (Basic Books)
BARLOW WRITES: "My 1999 visit to Torreya State Park and subsequent ruminations appear on pages 229-231."

EXCERPT: ... In a study of endangered species published in 2000, Rob Channell and Mark Lomolino concluded that "most species examined persist in the periphery of their historical geographic ranges." The implication is that the last place a troubled species is found may not, in fact, be the best place to assist its recovery. Transplantation is an uncommon and controversial technique for biodiversity conservation today. But after the greenhouse effect has ratcheted up temperatures and rerouted rainfall, it surely will become the norm. If gardening a few local patches of endangered plants is tough today, it's going to get a lot tougher when, like it or not, we become gardeners of the planet. Helping plants track climate change from one patch of forest to another will be a routine tactic for conserving biodiversity decades hence. Is it too early to begin now with Florida torreya?
• "Anachronistic Fruits and the Ghosts Who Haunt Them, by Connie Barlow, 2001, Arnoldia pp. 14-21. (Also via Researchgate.)
BARLOW WRITES: "Arnoldia editor Peter del Tredici asked me to write this article, which focuses far more on the fruit characteristics and paleohistory of genus Torrreya than does the 2004 paper by Barlow and Martin, which is the most cited. The last section of this article, pages 19-21, present an exclusive focus on torreya."
| | | |
| --- | --- | --- |
| | | EXCERPTS: "... The proximate cause of Torreya taxifolia's imminent extinction, and thus the cause that gets all the attention, is disease. Some thirty pathogens are known to infest it, but no single disease seems to be the culprit.... The genus Torreya was once distributed throughout the Northern Hemisphere. Range fragmentation has created distinct species in eastern China, patches of the Coast Range and the Sierras of California, and the Apalachicola of Florida. During the coldest times of the Pleistocene, the Apalachicola, with its moderate climate and rich soils, was a refuge for the trees and forbs that now enrich the Cove Hardwood forest of Great Smoky Mountains National Park, 375 miles (600 km) to the north. After the ice retreated, most of the plants hitched rides from wind and animals and moved back north to their pre-glacial home. Torreya seems to have been left behind.... Global or regional extinction of an animal partner (or partners) may be the root cause of the tree's current distress. Torreya is probably not ideally suited for the warmth and humidity of today's Apalachicola region. It wants to head north, but it hasn't found a vehicle.... |
"... Squirrels that fed on torreya seeds on the east side of the river would be unable to carry them across water to the west side, and if the rich soils of the Apalachicola are isolated from rich soils to the north by a barrier of sandy soils, then the squirrels would also be unable to disperse the seeds farther north. Squirrels may thus be a disperser, but they apparently are not the right disperser for helping this tree reclaim its pre-glacial range. This explanation would account for the seemingly paradoxical fact that until the 1950s, Florida torreya was the seventh most abundant tree species in an astonishingly small patch of 'native' habitat.
"Perhaps the best evidence that Florida torreya may be suffering from an inability to track climate change is that before the blight took hold, this tree was planted hundreds of miles north of its Florida habitat in the mountains of North Carolina, near Asheville. There, on the Biltmore Estate, the torreyas are thriving, and the females produce abundant seeds. 'Flower beds often abound with seedlings planted by squirrels,'reports Bill Alexander, landscape historian at the Biltmore. During his 23 years there, Alexander has watched the torreyas stand up well to a five-year drought. And in the winter of 1985 the thermometer plunged to minus-20 degrees Fahrenheit, yet 'our trees smiled right through,' he told me.
"For a number of years, Alexander had been thinking that 'Florida' torreya really belonged back in North Carolina. So he was delighted to hear of the lost disperser theory. A megafaunal ghost? If so, the ghost may well be a large extinct tortoise, I suggested, as reptiles are far more tolerant of plant terpenes than are mammals, and as the thin 'shell' protecting the large single seed of this conifer offers scant protection against molars.
"One must not, however, ponder the plight of the Florida torreya in isolation from its sister species. In contrast to Torreya taxifolia, California's torreya (Torreya californica) is maintaining its population, as are the several Asian species of Torreya — all of which bear nearly identical propagules. Nevertheless, all occupy restricted geographic ranges. What if the entire genus lost its key dispersers and now depends on the local activities of squirrels? Bill Alexander and I easily came up with two plausible explanations for the differences in endangerment, based strictly on geographic differences. In eastern North America, the climatic effects of the Ice Sheet reached much farther south than was the case in either western North America or eastern Asia, forcing the Appalachian species to take refuge at a lower latitude. Perhaps even more significant is that latitudinal migration was the only option for Florida torreya as the climate warmed. In contrast, torreya species in California and in Asia could head upslope. These torreyas are native to mountainous regions, where altitudinal gain facilitated by nothing more than squirrels could help the trees keep pace with a warming climate.
"Such unsubstantiated and untested leaps of speculation are normally not well received within the scientific community — but these are not normal times. Without some drastic breakthrough in the management of Florida's wild population of torreya trees, Torreya taxlfolia will, within fifty years, almost surely be extinct outside of botanical gardens. Perhaps it is time to help this torreya gain rootholds of wild populations in the mountains of North Carolina.
"Such is not, alas, how things are done with endangered species — the exception being the recent return of the California condor to its Pleistocene home near the Grand Canyon. Native territory is regarded as the last best place to be. But what is 'native'? How far might we justifiably reach back in time for a benchmark? In a study of endangered species published in 2000, Rob Channell and Mark Lomolino concluded that 'most species examined persist in the periphery of their historical geographic ranges.' If habitat at the periphery of historical range is adequate but not ideal, then the last place a troubled species is found may not, in fact, be the best place to assist its recovery.
"Transplantation across great distances is an uncommon and controversial technique for biodiversity conservation today. But as the greenhouse effect ratchets up temperatures and reroutes rainfall, and as botanical preserves become even more isolated islands in a sea of human development, long-distance transplantation will become the norm. If gardening a few local patches of endangered plants is tough today, it's going to get a lot tougher when, like it or not, we become gardeners of the planet [citation Daniel Janzen, 1998, "Gardenification of wildland nature and the human footprint".] Helping plants track climate change from one patch of habitat to another will be a routine tactic for conserving biodiversity decades hence. Is it too early to begin now with Florida torreya?"
2. BOOK BY U. TENN PALYNOLOGIST LINKS EASTERN FOREST PALEOECOLOGY WITH GLOBAL WARMING (2002): Connie Barlow read this book upon publication. Thanks to that reading, Connie's concern for Torreya taxifolia ramped up into a commitment to act.
• Forests in Peril: Tracking Deciduous Trees from Ice Age Refuges into the Greenhouse World, by Hazel Delcourt, 2002
EXCERPTS: ... "My personal and professional odyssey as a historian of deciduous trees has brought me to the realization that the future of the eastern deciduous forest is now at risk. (p. 97)

... We can provide corridors to allow for species to migrate successfully in the face of climate change. We may also need to be prepared to transplant endangered species to new locations where climate will be favorable." (p. 207)

Note: Delcourt's papers are cited in the 1986 recovery plan for Florida Torreya.
_____

BOOK REVIEW by Connie Barlow, published in 2004 issue of Wild Earth.
Note: An additional 2008 review by Connie Barlow of Forests in Peril, posted on Amazon, documents that this book played a pivotal role in the formation of Torreya Guardians:
... This is the book that launched our citizen naturalists group on the internet: Torreya Guardians. In reading Hazel's book, I was struck by how important the "pocket reserves" were to the preservation of rich forest species during the peak of the last glacial episode some 18,000 years ago (as well as all the previous glacial episodes). One of those pocket reserves runs along the edge of the Apalachicola River in the Florida Panhandle. And it is here that the most endangered conifer tree in the world, Torreya taxifolia, is gravely imperiled....
3. LEE BARNES COLLABORATES (2003): Lee Barnes (resident of Waynesville, NC) did graduate work on Torreya taxifolia in the early 80s at the University of Florida. Indeed, 1986 recovery plan cites his work. Connie met Lee in 2003; they discovered a mutual interest in Florida torreya and the collaboration began. Access Lee's 1985 PhD dissertation: "Clonal Propagation of Endangered Plants: Rhododendron chapmanii, Taxus floridana, and Torreya taxifolia".

4. CONNIE BARLOW AND LEE BARNES LAUNCH TORREYA DISCUSSION GROUP ONLINE (2004): Earlier e-communications by Connie Barlow and Lee Barnes with Hazel Delcourt, Paul C. Martin, Bill Alexander, Mark Schwartz, and others builds to a point where a YahooGroup list-serve is established by Lee in March 2004. Access the roster of persons involved in the earliest discussions.

5. EDITOR OF WILD EARTH JOURNAL EXPRESSES INTEREST IN PUBLISHING TORREYA ESSAYS PRO & CON ASSISTED MIGRATION (2004): February initial response arrives from a query sent by Connie to the editor of Wild Earth journal, Josh Brown. His favorable response then shapes the list-serve discussion toward honing ideas and determining potential author interest. Much of this 2004 e-correspondence can be accessed online via (1) Early 2004 Correspondence and (2) Archive of early correspondence and related documents. A later section of this webpage lists and links to archival documents of key online correspondence of more than a dozen distinct titles: Archived Documents of Early Roots of Torreya Guardians.

6. TWO PAPERS (ONE PRO AND ONE CON) ASSISTED MIGRATION PUBLISHED IN WILD EARTH (WINTER 2004/2005): When it became obvious that the discussants could not agree on a path of advocacy and action, Connie Barlow and Paul S. Martin co-wrote their own pro-action proposal and submitted it to the editor of Wild Earth journal (Barlow and Martin had each published in that journal previously). A contrary perspective by Mark Schwartz was simultaneously submitted. All three authors read and critiqued each other's draft papers, communicated, and then the final versions were published as poles in the "Forum" section of the WINTER 2004/05 issue of the journal. In that same issue, Barlow also published a review of the 2002 book (by paleoecologist Hazel Delcourt; listed below) that solidified her sense of Florida Torreya as a glacial relict and thus prompted her to launch these discussions and eventually the founding of Torreya Guardians. Note: In 2010, Connie published her eulogy to Paul S. Martin, which contains many reflections on their conversations leading up to their 2004 Torreya advocacy piece.
• "Forum" (both articles in a single pdf)

• "Bring Torreya taxifolia North — Now", by Connie Barlow and Paul S. Martin

• "Conservationists Should Not Move Torreya taxifolia", by Mark Schwartz

• "Forests in Peril", review by Connie Barlow of 2002 book by Hazel Delcourt, Forests in Peril: Tracking Deciduous Trees from Ice-Age Refuges into the Greenhouse World"
7. ASSISTED MIGRATION SCHOLARLY LINKS (2007 webpage): In order to keep track of the sudden rush of papers (along with news reports) on the "assisted migration" controversy, Connie Barlow initiated a webpage of Assisted Migration Scholarly Links. Visitors to that increasingly massive page are helped by a linked list of internal sections by topic, and the format allows for internal word searches to assist with web-based scholarly research.

8. "TORREYA GUARDIANS" ACTIONS BECOME NEWSWORTHY (2008 - 2010): Lee Barnes had begun acquiring seeds from Biltmore Gardens autumn 2005 and distributing the seeds (mostly to established botanical gardens in North Carolina and northward). Our actions became newsworthy in 2008. Orion Magazine was the first to publish an article that featured "Torreya Guardians," while Audubon Magazine sent a journalist onsite to report on our July 2008 planting of 31 potted seedlings in the Waynesville NC area. Both articles can be accessed below (the Audubon article was delayed until 2010).
;
• The 2008 Orion article sets the Torreya effort within the contentious early years of the "assisted migration" debate.

• The 2010 Audubon article includes onsite reporting and photography of our July 2008 planting of 31 potted seedlings into forested habitat ("rewilding") near Waynesville, NC. Jack Johnston played a crucial role in this planting effort, and continued in crucial ways ever after.
| | | | | |
| --- | --- | --- | --- | --- |
| | ; | | • The most in-depth article had limited circulation (mostly just North Carolina), as it had no online presence until recent years. It is the 2009 North Carolina Wildlife article (now available in pdf). In addition to many quotes by early Torreya Guardians volunteers, the article includes historically important quotations by Biltmore Forest Historian Bill Alexander and botanists/horticulturalists Peter White, Rob Nicholson, and Mark Schwartz. | |
9. TORREYA CHAPTER IN EARTH ETHICS BOOK (2009)
10. COMMENTS ON ESA 2010 RECOVERY PLAN UPDATE (2010): USF&WS staff person Vivian Negron-Ortiz invited Torreya Guardians to use a conference call phone line to express our views during a meeting of the official Advisory Board for Florida Torreya, in which Negron-Ortiz would solicit responses to questions she devised in advance. CONNIE BARLOW was joined in that phone call by one of our Torreya planters in North Carolina: RUSSELL REGNERY. Barlow followed up with written comments, and by recruiting several professionals (Sara Reichard and Josh Donlan) to file comments. A webpage provides links to all written comments by or in behalf of Torreya Guardians, and also to the original (1986) and updated (2010) ESA recovery plans.
The resulting recovery plan 2010 update mentions Torreya Guardians in three places:

p. 18 "Foster a working partnership between the Torreya Guardians, the Service, and other interested parties to help direct their managed relocation efforts."

p. 5 [listed within "Recovery Action 1: Protect existing habitat"] The Torreya Guardians, created in 2004, translocated seedlings of T. taxifolia outside of the species native habitat (two sites in North Carolina mountains). One of the identified goals of their intentional assisted migration was to save T. taxifolia from extinction (http://www.torreyaguardians.org/save.html).

p. 9 [listed within "Recovery Action 5: Establish experimental collections of torreya outside its native habitat"] "In 1939 nearly a dozen specimens of T. taxifolia were planted at the Biltmore Gardens; 31 seedlings were planted in 2008 at two locations near Waynesville; and 10 seedlings were planted at Bt. Highlands and Franklin (http://www.torreyaguardians.org/north-carolina.html)."

The final paragraph of the 2010 update does mention translocation, but within the bounds set by the advisory committee:

p. 19: "Translocation (introduction of a species to a site outside the known historical range), could offer a best management option if the site provides the only place safe from the threats that brought the species to endangerment, and should only be considered if it can be shown that there is a net gain for the species conservation, i.e., recovery unit. This management option should be carefully evaluated, and planning should be done with the very best biological science. If a population has been already translocated, it could potentially be evaluated as an experimental population.
11. "PALEOECOLOGY AND THE ASSISTED MIGRATION DEBATE" (2010): Because Connie Barlow was disappointed in the 2010 Recovery Plan update's failure to initiate official experiments in northward assisted migration, and because there appeared to be a retrenchment in consideration of T. taxfolia as a glacial relict after this species was declared an endangered relict in 1984, Barlow created (and periodically updates) a webpage setting forth the elements of a paleoecological argument for moving Florida Torreya poleward: "Paleoecology and the Assisted Migration Debate: Why a Deep-Time Perspective Is Vital".
12. FORESTRY CHRONICLE REPORTS SCIENCE-BASED DECISION MAKING BY TORREYA GUARDIANS (2011): "Review of science-based assessments of species vulnerability: Contributions to decision-making for assisted migration", by Tannis Beardmore and Richard Winder, December 2011, Forestry Chronicle (Canadian) provides the most detailed academic review to date of the impetus for citizen volunteers in moving Florida Torreya north. The Torreya section includes this table and the text below it.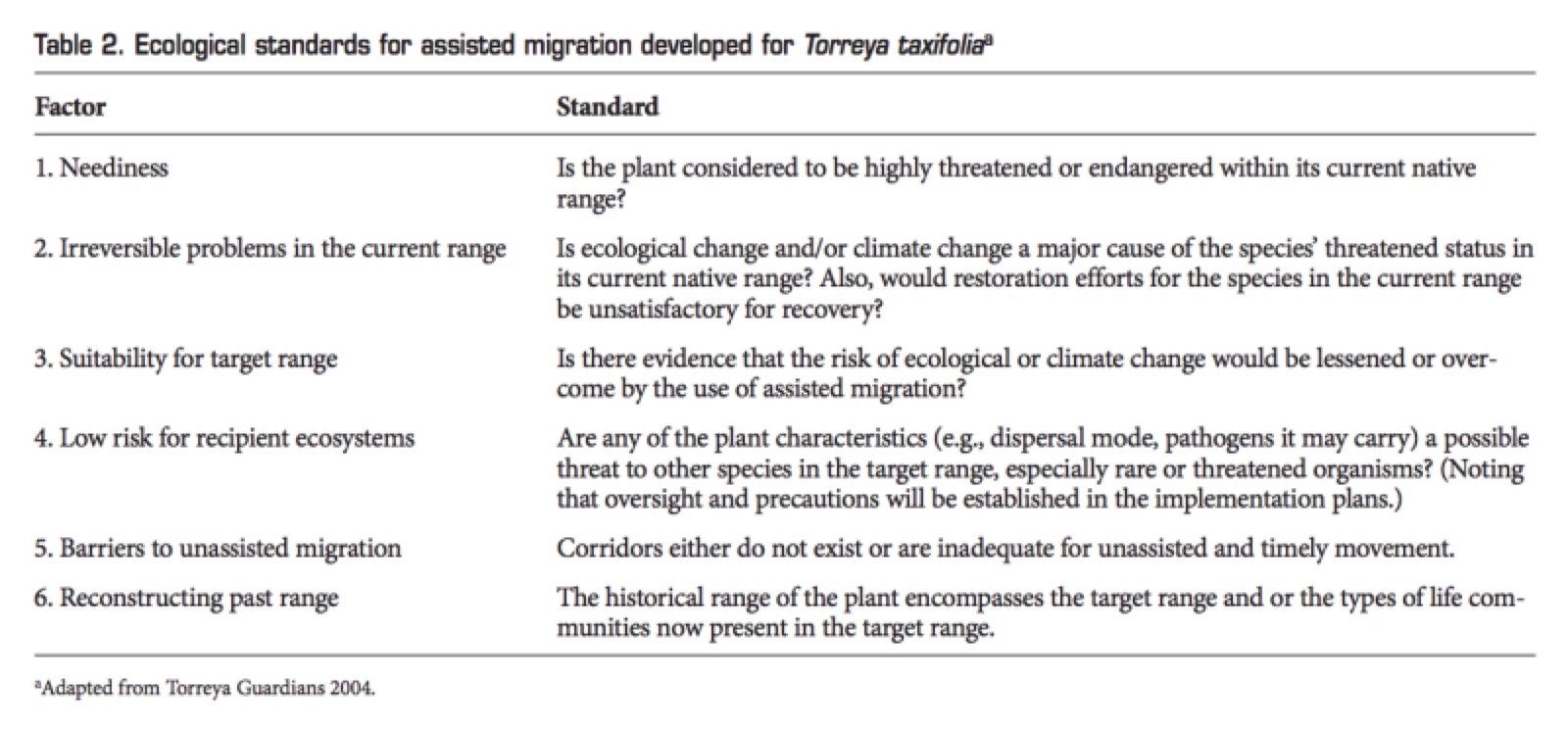 Ecological standards for assisted migration developed for Torreya taxifolia.
The Torreya Guardians are a volunteer conservation group consisting of botanists, naturalists, and citizens with an interest in conserving Florida Torreya (Torreya taxifolia Arn.). This group has four primary goals: (1) to save this species from extinction; (2) to test the utility of assisted migration for this and other threatened plant species; (3) to provide a model for possible activities to help mitigate the impacts of climate change; and (4) to foster collaborations with the public and appropriate professions (Torreya Guardians 2004). Florida Torreya is a small tree in the yew family (Taxaceae) with a very limited range in the southeastern United States; it is native to Georgia and Florida. Florida Torreya is federally listed as critically endangered under the U.S. Endangered Species Act (U.S. Fish and Wildlife Service 1986). Within its native range, this species has been decimated by a fungal disease (Godfrey and Kurz 1962) reported to be a novel species of Fusarium (Smith et al. 2011), which remains the largest threat to this species' survival.
The Torreya Guardians developed "Ecological Standards" as a tool for assessing vulnerability, identifying whether this species was at risk, and determining if assisted migration was an appropriate mitigation strategy (Tables 1 and 2). To assess vulnerability, two factors are used: "neediness" and "irreversible problems". The assessment identifies whether the species is endangered, and whether ecological or climate change is a major threat. Four factors then consider whether assisted migration is appropriate (Table 2), including considerations pertaining to historical information, evaluation of whether assisted migration will decrease the risk of extirpation or introduce new threats to the recipient areas, and determination of whether unassisted migration is still feasible.
The Torreya Guardians identified Florida Torreya as being highly vulnerable and incorporated this information into their management plans, where they have developed and implemented assisted migration as a conservation strategy using their own resources (Torreya Guardians 2004). They have established plantings of trees across a 600-km range, predominantly in the southern Appalachians, using readily available seed stock (Camacho 2010). This material is being planted on private lands, with full support of the landowners. Thus, there is no involvement of government oversight, nor has it been legally mandated.
There have been concerns that limited biological information has been used in this assessment and that assisted migration may result in unintended negative ecological consequences (McMahan 1989). These concerns include the introduction of non-native species and their potential to become invasive. However, no negative ecological consequences have been identified. This group has created an extensive online information resource for their activities (Torreya Guardians 2011), which was most likely used to assist in this decision-making process. This work has raised important questions concerning the level of information needed to determine the level of a species' vulnerability to climate change. Furthermore, how does one address the absence of information in the presence of uncertainty? Please see the papers by Aubin et al., Ste-Marie et al. and Winder et al. in this issue that further discuss these issues.
This example of assisted migration has raised the issue of authorization and oversight as the official federal recovery plan does not identify assisted migration as a conservation strategy for Florida Torreya. The momentum that this group has created resulted in the U.S. Fish and Wildlife Service considering whether assisted migration is an appropriate strategy for this species (U.S. Fish and Wildlife Service 2010). It is yet to be seen if official plans will include a more thorough assessment of the ecological impacts of assisted migration, or more extensive monitoring programs. Nonetheless, this is a very interesting example of how a grassroots organization can propel assisted migration into the forefront, causing a governmental agency to consider the use of this strategy.
13. BARLOW POSTS COMMENTS AND OFFERS RECOMMENDATIONS ON "MANAGED RELOCATION" PAPER (2012): 31 academic scientists publish a report on "managed relocation" of species, following 4 years of study: "Managed Relocation: Integrating the Scientific, Regulatory, and Ethical Challenges" by Mark W. Schwartz et al., BioScience, August 2012 (12 pp in pdf). This group of scientists originally assembled at the 2008 meeting of the Ecological Society of America to explore the topic of assisted migration of species in a time of rapid climate change. Torreya Guardians efforts are mentioned in the report, and the lead author (Mark W. Schwartz) is himself an expert on Torreya. Because this paper was likely to confer strong policy guidance, Connie Barlow posted COMMENTS and RECOMMENDATIONS on the Torreya Guardians website.
EXCERPTS OF BARLOW COMMENTS: The August 2012 paper by Mark W. Scwhartz and 30 coauthors (Managed Relocation Working Group) published in BioScience is a superb review paper and exceedingly helpful for its thorough citations. As to policy conclusions that the diverse group of authors could agree on, below are the aspects of the paper that I found most helpful (followed by my recommendation for future work by the group).
...In contrast, two of our project sites (Waynesville and Junaluska NC) introduced specimens into semi-wild deciduous-canopy forested habitats, in which a hands-off approach (after initial post-planting watering) is the management norm. The reason? Our aim is to discover which elevations, aspects, slopes, hydrology, associated species, etc. are Torreya's preferred habitat conditions. Thus, when our May 2012 monitoring of these two sites began to yield important data indicative of distinct habitat preferences (and habitat stressors), we did not intervene to "help" the struggling or dying specimens. Indeed, we were excited to discover that an oak-hickory canopy with associated dry-adapted species (sassafras and flame azalea) are very stressful, even lethal, to Torreya taxifolia. In contrast, moist deciduous indicator species were the plants associated with specimens that were doing the best. Please access our monitoring report: "What We Are Learning About Torreya's Habitat Preferences".
A second reason why the 2012 paper's definition of "assisted migration" does not accurately depict the intentions of what we at Torreya Guardians are doing is that, with respect to our particular species, the core group of activists and private landowners believe that our actions are simply assisting this species in mirroring the natural northward migrations it is reasonably assumed to have undertaken in sync with the onset and intensification of previous interglacial episodes of climate warming during the Pleistocene. T. taxifolia's "historic native range" is, after all, also known to be a well-established "pocket glacial refugium," and thus it served as a vitally important refuge for eastern deciduous forest species at the peak of each glacial episode. That is why the late Paul S. Martin (Pleistocene ecologist) depicted Torreya taxifolia as having been "left behind in near time." See our 2004 paper on this topic, "Bring Torreya Taxifolia North — Now".
What the word "migration" thus means in this context is not the annual migration of seasonally resident animal species but the epochal movements of the species at the timescale of Milankovitch cycles. By using the term "migration" to depict what we are are assisting Torreya in doing, rather than "colonization" or "relocation," we hope that regional residents near our project sites will be able to grasp that we are simply assisting this endangered species in doing what it naturally has done in previous warming periods. The term "assisted migration" thus has a far less interventionist aura to it than does the hegemonic feel of "colonization" or "relocation."
... In my view, until conservation biologists and managers and the public at large are given an opportunity to reflect on how long-lived species and genera of plants (such as Torreya) have indeed had to migrate long distances in the past, this issue of "managed relocation" will continue to foment more discord than necessary. We must cast what we are doing (or thinking about doing) not in the light of purely artificial intrusions in natural ecological dynamics but rather as necessary assistance in helping plants do what they have naturally done over the course of millennia and millions of years.
Indeed, I would not have initiated the Torreya Guardians movement simply on the basis of experiencing the species as doomed and feeling sorry for it; a deep-time paleoecological perspective (which I gained largely thanks to Paul S. Martin and Hazel Delcourt) was the crucial impetus moving me into action. My sense was that the managers and ecologists in charge of the Endangered Species Act (ESA) management of Torreya taxifolia lacked this perspective, and thus would continue to constrict their management focus exclusively to the ever-degrading "historic range" in Florida. Sadly, this proved to be true: In June 2010 Torreya Guardians were the only participants to vote "Yes," when the USF&WS staffer in charge of the ESA management plan update for T. taxifolia asked the gathered advisors whether a "pilot project" to test planting Torreya taxifolia to the north of its historic range should be added to the management plan. (You can access ours and other comments via: http://www.torreyaguardians.org/esa-recovery-plan.html.)
... I have yet to hear any professional ecologist, horticulturalist, botanist, or similar professional who is familiar with Torreya taxifolia and/or with southern Appalachian forest ecologies express any real concern [about Torreya's possible invasiveness within a recipient ecosystem]. One need only look at the existing translocations of this species in which seed production has been occurring for decades (the Biltmore Estate, Clinton NC, Highlands NC) to conclude that this large-seeded plant can't disperse any farther in a generation (roughly 20-30 years in the wild) than the distance a squirrel is inclined to bury seed from the parent plant. More, if it were to become invasive, all specimens could easily be removed by hand, especially since they do not spread by root runners. This contention is supported, in the abstract, by a 2007 paper that concluded that north-south translocations of terrestrial (nonaquatic) species in eastern North America pose little threat of invasiveness: Jillian M. Mueller and Jessica J. Hellmann, "An Assessment of Invasion Risk from Assisted Migration" Conservation Biology, 28 June 2007. [Barlow comments at: http://www.torreyaguardians.org/barlow-2010.pdf]
... While it is understandable that many environmental activists working to reduce the global carbon footprint would still be hesitant to acquiesce to any "adaptation" strategy regarding biodiversity preservation, and why the public educated about the dangers of "invasive species" would naturally be wary of the de facto pilot project being undertaken openly and with as much scientific rigor as we Torreya Guardians can muster (as volunteers with no financial assistance), it seems that the 31 coauthors of the BioScience paper could easily take additional steps to bring some commonsense understandings to the debate. Perhaps the most important additional task the group could easily take on would be to construct a table of nuanced definitions for what is meant by "native habitat" or "historic habitat."
Paul Martin's and my 2004 paper included an appendix, where we offered proposed "Standards for Assisted Migration of Plants". At the bottom of that short list, we offered some short definitions, which would be a place for the MRWG to begin their own assessment:

DEFINITIONS (from Barlow and Martin 2004):

Assisted migration - Human actions intended to help a species, subspecies, or population establish and maintain populations in natural life communities outside of its current range.
Current range - where the plant is found "in the wild" right now.
Historic range - the range of confirmed specimen locations as evidenced by written or other human records.
Near-time range - the range of the plant during prehistoric human occupation.
Deep-time range - the range of the plant (species or genus) in any time period from its origin to the arrival of the first humans.
Target range - the chosen destination(s) for assisted migration, representing (1) future range that will keep apace with climate change, (2) recovery of historic, near-time, or deep-time range or life communities, or (3) a suitable range justified by nothing more than compatibility with the ecological requirements of an imperiled plant and low risk factors of the recipient life community.
A table of such definitions would be helpful because I sense that an unnecessary polarity within the working group has developed — between those who want to retain a historic "baseline" approach for biodiversity and ESA management and others who would toss out the idea of baseline altogether, and simply assess where in the future species would need to move in order to stay in sync with the movement of its habitat conditions. (See, for example, in 2011 Hellmann and Pfrender concluded, ". . . we can no longer look to the past for guidance on how an ecosystem is supposed to be.")

14. PAPER CONFIRMS TORREYA GUARDIANS ACTIONS ARE LEGAL (2013): Although Connie Barlow received e-confirmation 22 July 2004 from then-ESA-staffer Stan Simpkins (see pp. 22-23 of this pdf), publication of a paper by Patrick D. Shirey et al. gave her solid grounding to step out more in publicly communicating the seed distribution and planting efforts of Torreya Guardians. Apparently, the Endangered Species Act was intentionally written with an exception for plants (but not for animals). See "Commercial Trade of Federally Listed Threatened and Endangered Plants in the United States", by Patrick D. Shirey et al., 2013, Conservation Letters.

15. REVIEW PAPER IN FORESTRY JOURNAL INCLUDES TORREYA GUARDIANS (2013): Connie Barlow learns that, while conservation biology journals have been featuring debate and discussion, professional foresters have been moving ahead with delineating the need for and experimenting with assisted migration of trees.
Crucially, foresters make a 3-fold distinction in the types of assisted migration, with the "assisted species migration" (a.k.a. "species rescue") being the most radical.

The actions taken by Torreya Guardians made Florida Torreya the type-case example of the latter. Connie begins to network with forestry research professionals.
ABOVE: "Preparing for Climate Change: Forestry and Assisted Migration", by Mary Williams and Kasten Dumroese, 2013, Journal of Forestry.
16. VIDEO DOCUMENTATION INITIATED (2013): Immediately following publication of the Shirey et al. paper (above), Connie Barlow created and posted on youtube her first Torreya video, this one serving as an introduction to the paleoecological arguments for moving Florida Torreya north, a summary of actions to date, along with highlighting key sections of the Shirey et al. paper confirming the legality of our efforts. As of the end of 2020, the series includes 34 video episodes, most of which center on field documentation — as video footage enables armchair viewers to formulate their own interpretations and to do so for many years ahead. All videos are listed, annotated, and linked from our Torreya VIDEOS webpage. Note: Connie Barlow initiated in January 2014 another tree-centric video series posted on youtube: "Climate, Trees, and Legacy". In the first episode, Introduction, Connie reflects on how her experience with helping Florida Torreya move north grounds her field research and advocacy for expanding climate-responsive "assisted migration" poleward for even common, native trees of North America. The Torreya Guardians section begins at timecode 14:41.
17. INCOMPATIBILITY CONTINUES BETWEEN TORREYA GUARDIANS AND ENDANGERED SPECIES ACT OFFICIALS (2014): Written correspondence initiated by Connie Barlow confirms that incompatible views are still present between Torreya Guardians and both the USF&WS staff person in charge of Torreya taxifolia (Vivian Negron-Ortiz) and a key scientist working within the recovery plan in the 1990s (Mark Schwartz). Excerpt of Mark Schwartz 2 September 2014 email response to Barlow:"...I have spoken to a number of USFWS about assisted migration and the hesitancy on the part of the agency is, as I see it, not about climate politics or climate deniers. In fact experimental populations have been established outside historic ranges, albeit not necessarily based on a climate futures model. However, the TG rewilding is not based on that either, as best I can tell. My sense is that it is about limited capacity and drivers of extinction risk. The application of the ESA has been focused on extinction prevention, and not on restoring ecological relevant populations. Hence, Torreya would not be a priority as it is not high on the list of species likely to go extinct soon."
18. BARLOW INVITED TO SPEAK ON ASSISTED MIGRATION AT MICHIGAN TECH SCHOOL OF FORESTRY (2015): VIDEO: Foresters Outpace Conservation Biologists in Climate Adaptation
| | | |
| --- | --- | --- |
| | | The "assisted migration" ongoing project of Torreya Guardians is regularly cited in academic literature on climate adaptation controversies in biodversity and ecosystems protection. Here, Connie Barlow presents the first (highly illustrated) talk to professionals. Speaking to faculty and students at Michigan Technological University's School of Forest Resources and Environmental Science, Barlow presents the history of the "assisted migration" controversy — highlighting the reasons why foresters have already taken actions where conservation biologists fear to tread. (filmed Sept 11, 2015) |
Note: This video is episode 08 in an ongoing video series by Barlow on forestry and climate adaptation. See an annotated list of titles and links to all such videos here: "CLIMATE, TREES, and LEGACY".
19. TENNESSEE CHAPTER OF SIERRA CLUB POSTS TORREYA GUARDIANS ARTICLE IN NEWSLETTER (2015): The Sept-Oct 2015 newsletter of the Tennes-Sierran newsletter contains an article soliciting volunteers in Tennessee to begin planting Torreya taxifolia seeds in their state. Click the image below and then scroll down the online pdf to page 8 in order to read the full article.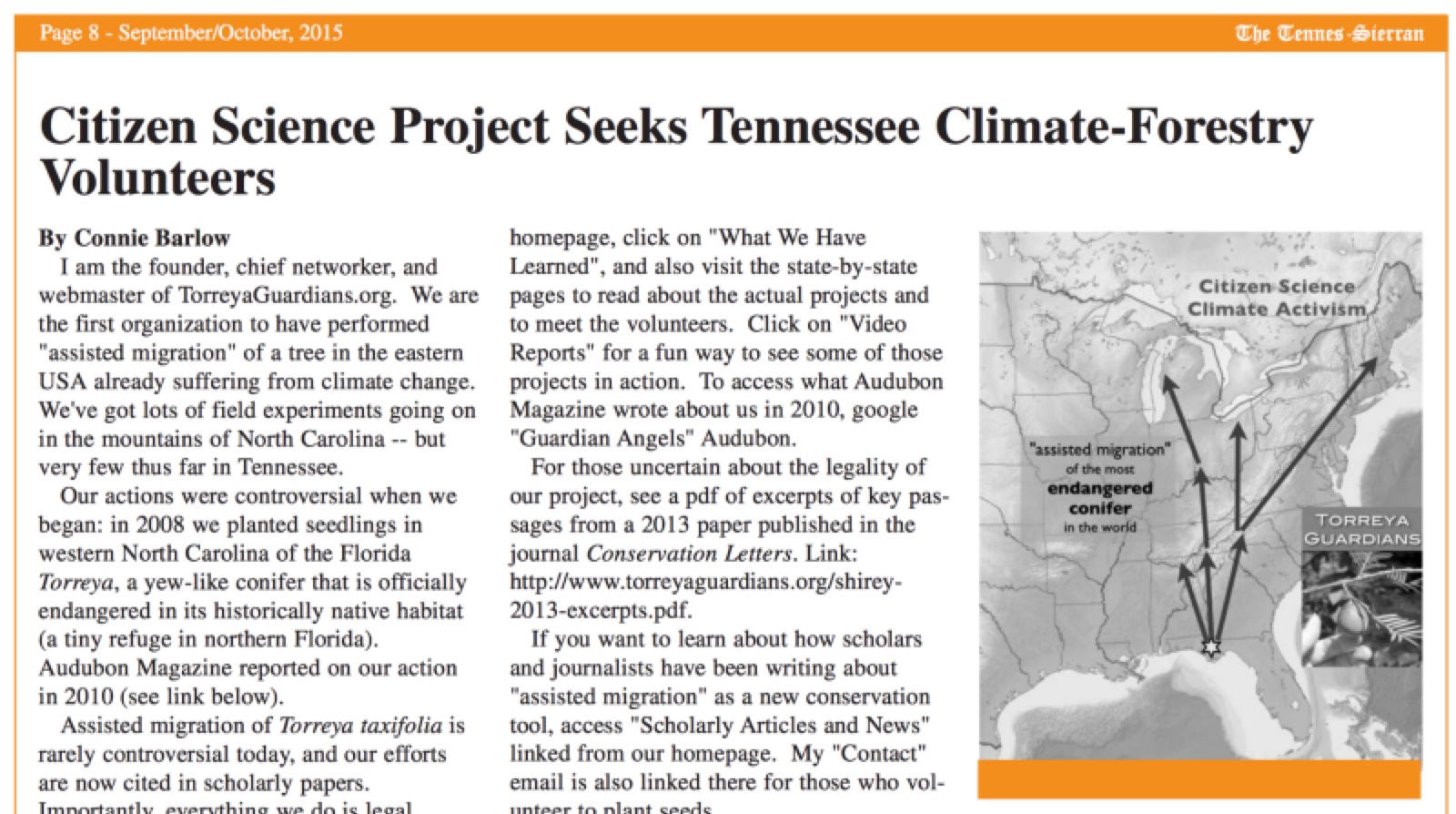 Nov 2017 update: Thanks to the Sierra Club newsletter, a new volunteer on the Cumberland Plateau free-planted 400 seeds in Nov 2015. Two years later, Connie Barlow visited his in-forest plantings, took photos and video, and posted this ongoing report: Torreya Rewilded to Cumberland Plateau, TN.
20. 2018 a DIFFICULT YEAR, 4 REASONS:
(1) Georgia and Florida institutions that are officially authorized to implement species recovery held an invitation-only Torreya Symposium the first week in March. Absent any public comment opportunity, the University of Florida issued a press release announcing that the symposium result was to declare genetic engineering as the next step.

(2) Official institutional hostility toward Torreya Guardians, plus the genetic engineering announcement (above) led Torreya Guardian Connie Barlow to file a Freedom of Information Act (FOIA) data request for documentation of seed production from the two ex-situ plantings in northern Georgia (and seed "ultimate destinations") from 2007 through 2017. As she expected, the results were that there was no documentation of numbers or destinations for (what we Torreya Guardians know to be) thousands of seeds produced annually at each site.

(3) Barlow had hoped to use the FOIA outcome to leverage communications with USF&WS staff and Atlanta Botanical Garden. She even offered both, what she considered to be, a "win-win" proposal for moving forward. She got no response. She summarizes the effort in her closing statement to the FOIA office.

(4) Accordingly, Barlow moved into a "dark night of the soul" where she placed her own experience as a citizen having to fight for a listed species against authorized institutions — at least one of which has announced interest in subjecting it to genetic engineering, with no opportunity for public comment nor interest in finding a mutual solution with citizen volunteers. Fortunately, the effort of placing Torreya Guardians' difficulties within the context of the Endangered Species Act as a whole led her to several insights by which implementation of the Act could be opened to more citizen engagement, perhaps benefiting other plant species too. She filed her recommendations as a personal comment during the September 2018 official reconsideration of governmental regulations for implementing the Act.
21. BARLOW FILES COMMENTS RE AUGUST 2018 F&WS INITIATION OF RECOVERY PLAN UPDATE
October 2018 Barlow submits comments for consideration during the official recovery plan updating by F&WS staff. She LINKED TO 3 KEY PAGES on the Torreya Guardians website: "Historic Groves of Torreya Trees"; "What We Are Learning"; and "Recent Papers on Stem Canker". She also made "4 REQUESTS": (1) Add Barlow to the official Advisory Committee for this species; (2) Inform advisors of Torreya's history as a "glacial relict"; (3) Document and post 2018 seed production at ex situ locations; and (4) Read Barlow's August 2019 Report to DOI: Volunteer Actions of Torreya Guardians Support New Endangered Species Administrative Policies.
22. BARLOW FILES REPORT TO DOI: "Volunteer Actions of Torreya Guardians Support New Endangered Species Administrative Policies"

August 25, 2019, Connie Barlow, as an individual and citizen, submitted a 21-page "Report to Secretary of the Department of Interior and Director of Fish & Wildlife Service: Volunteer Actions of Torreya Guardians Support New Endangered Species Administrative Policies"

.
TABLE OF CONTENTS:

1. Suggestions for Florida Torreya Plan Update: Part A - Translocations (p. 2)

2. Suggestions for Florida Torreya Plan Update: Part B - Actions for DOWNLISTING (p. 4)

3. Details for updating key sections of the 2010 Recovery Plan for Florida Torreya (p.6)

4. Details for reinstating sections of the 1986 Recovery Plan for Florida Torreya

5. Torreya Guardians Citizen Actions Empower Joshua Tree Citizen Advocates (to undertake conservation actions without endangerment listing)
23. BARLOW FILES "PETITION TO DOWNLIST FROM ENDANGERED TO THREATENED" (2019)
Because Torreya Guardians has no board or organizational structure, Founder Connie Barlow decided to file a formal "petition" as an individual to the Department of Interior, in accordance with updated regulations pertaining to the Endangered Species Act. The petition is 26 pages long in PDF.

"An OVERVIEW" (first 3 pages) presents the history, context, and summary arguments.

• F&WS sends a 3-page OFFICIAL ACKNOWLEDGMENT OF BARLOW'S PETITION 23 October 2019 and acknowledgement of Barlow's "report" of 25 August 2019 and Lists this Petition as "Active" on the official USF&WS Torreya taxifolia ESA webpage (scroll down to Petitions section) until you get to the section as imaged below.

24. BARLOW PROTESTS SECRECY AND OUTCOME OF RECOVERY PLAN UPDATE (2020): In contrast to our inclusion in both the working group and the recovery plan revision in 2010, the latest plan revision (process announced August 2018, working group collaborated April 2019, and final plan posted July 2020), we Torreya Guardians were uninvited and unaware until Barlow stumbled on the revised plan during a routine check for possible new postings on the official USF&WS Florida Torreya webpage. Barlow posted this shocking discovery as the October 2020 entry on the chronological Reports page of Torreya Guardians — exactly 2 years after she officially requested an invitation to participate in the working group process and thus present vital information learned by Torreya Guardians during the preceding decade. Barlow included in her October 2020 report the major points of her critique of the resultant 2020 plan. Note: As a safeguard against federal government contraction and loss of history, all three versions of the official Florida Torreya Recovery Plan have been downloaded and made available on this website:
• 2020 • 2010 • 1986

25. TORREYA GUARDIANS IN WIKIPEDIA "REWILDING PLANTS" ENTRY: In 2020, Connie Barlow posted a new section titled "Rewilding Plants" to the end of the Rewilding (conservation biology) entry on Wikipedia.

26. CASE STUDY: "Agency and Institutional Failures in Endangered Species Management of Florida Torreya" (2021) is posted by Connie Barlow: While our What We Have Learned webpage offers a chronological (and linked) annotated list of our achievements, there was no place on this website where people could find and assess for themselves the agency and institutional decisions and actions that have stood in the way of helping this beleaguered relict species move north. So when Science journal published a forum piece, "Global Policy for Assisted Colonization of Species", by Jedediah F. Brodie and 6 coauthors (which aims at influencing the U.N. Convention on Biological Diversity October 2021), Barlow decided it was time to call out the history of agency and institutional decisions and actions that she interprets as thwarting effective implementation of the Endangered Species Act in this time of rapid climate change.
Access this 2021 CASE STUDY: "Agency and Institutional Failures.

27. NEW VIDEO SERIES FEATURES TORREYA GUARDIANS: Helping Forests Walk - episode 1, Introduction. Retired now to her home state of Michigan, Barlow launched a new video series that builds upon the foundation laid by Torreya Guardians. Titled "Helping Forests Walk", it is a more reflective series on the topic of "assisted migration" than her 2014-2020 video series filmed across America: "Climate, Trees, and Legacy".
28. USF&WS PUBLISHES DECISION ON BARLOW'S 2019 "PETITION TO DOWNLIST": 29 September 2021, the agency publishes its decision. Barlow posts a summary, links, and background on the Torreya Guardians reports page, along with an excerpt of and link to her own response to the agency, September 30. Excerpt of her response:
... I believe the USF&WS branch of DOI can produce a policy statement that would authorize, on a case-by-case basis, "endangered species" decisions to begin including climate adaptive responses in favor of suitable conditions in "projected ranges" — not just limited to trying to manipulate the habitat of "historic ranges" to enable species thrival again. This is especially vital for any plant species classified as a "glacial relict" to ever achieve suitable habitat in this rapidly changing climate. New habitat poleward is the only chance to ever delist the plant. Otherwise "safeguarding genetic materials" will be perpetual and never enable a full wild presence....
29. BARLOW POSTS A COMMENT on USF&WS PROPOSED FEDERAL REGULATION to eliminate "historical range" as the sole locus for endangered species recovery. After voicing a YES to the proposal, she suggested using the experience of Torreya Guardians as a case study. She also offered RECOMMENDATIONS FOR IMPLEMENTATION:
1. Create implementation frameworks and policies that are distinct for plants.

2. Encourage nongovernmental entities to use the ESA "exception" for plants.

3. Follow the lead of the USDA Forest Service [in their own "assisted migration" terminology and actions.

4. Facilitate respectful dialogue and understandings of worldview differences.

• Barlow Comment, 5-page PDF here or here

• Barlow summary of key institutional comments among the 553 posted (10 pages PDF)
• PRESENT: ONGOING PROJECT REPORTS: Webmaster Connie Barlow attempts to keep the various webpages updated. Substantial events, actions, and ideas are posted chronologically on our PROJECT REPORTS webpage. Activities are also posted by state, with links to individual webpages created for each Torreya volunteer who reports results (especially with photos). All state webpages are accessible via the STATE-BY-STATE LIST on our homepage. The LEARNINGS webpage is also chronological by year. One of the most complex (and thus internally indexed by topic) webpages is PROPAGATE, because seeds are precious and so we try to offer new planters our ever-advancing suggestions for best practices.
• PRESENT: ONGOING LIST OF MEDIA REPORTS: A later section of this webpage catalogs the most important mentions of Torreya Guardians: "Torreya Guardians in the Media". Media include: New York Times • Los Angeles Times • Scientific American • The Economist • Sierra Magazine • Earth Island Journal • Audubon Magazine • Orion Magazine • Landscape Architecture Magazine. The list also includes news reports in academic journals: Nature • Nature Climate Change • Science • Conservation Biology • Forestry Chronicle • Environmental Science and Policy • Animal Law • Canadian Council of Forest Ministers • Scandinavian Journal of Forest Research.
---
Torreya Guardians Interactions
with U.S. Fish and Wildlife Service
• 1986 - Lee Barnes (who will later become one of the first Torreya Guardians1) is listed in Appendix C as one of the reviewers of the first recovery plan created for this species by the U.S. Fish and Wildlife Service.2

• 2004 - July 22 email from Stan Simpkins, USFWS Ecologist, to Connie Barlow. This confirms that seeds accessed from horticultural sites and then transported across state lines require no permits from the agency "in the absence of financial transactions."3, 4

• 2010 - USFWS staff Vivian Negron-Ortiz invites Torreya Guardians to participate in a phone conference call of the "Recovery Working Group," meeting 11 May 2010.5, 6 Connie Barlow and Russell Regnery7 are the two Torreya Guardians who participate in the conference call. Barlow follows up with an 8-page proposal that urges a "shift to a deep-time perspective of native habitat."8

• 2010 - USFWS issues first update, 2010, of the original 1986 recovery plan.9 The plan mentions Torreya Guardians in three places, including: "Foster a working partnership between the Torreya Guardians, the Service, and other interested parties to help direct their managed relocation efforts."10

• 2014 - Barlow receives email responses to her email query of September 2, about whether "climate denial" plays a role in the "hesitancy" of the agency "to add assisted migration into its official options."11 USFWS staff Vivian Negron-Ortiz responds in part: "... The goal of the ESA is to 'bring a listed species to the point at which it is no longer likely to become in danger of extinction throughout all or a significant portion of its range'. So care/guidelines is/are needed to introduce species outside their historic range. Research specifically focused on assisted migration is necessary to help inform the debate on the concept of assisted migration." Prof. Mark Schwartz, a leading Torreya scientist, responds in part: "... I have spoken to a number of USFWS about assisted migration and the hesitancy on the part of the agency is, as I see it, not about climate politics or climate deniers."
• 2018 - Barlow uses the Freedom of Information Act (United States) to "to leverage communications with USF&WS."12 March 27, she submits a request for "documentation of seed production year by year, beginning in 2007" from the two official ex situ plantings in northern Georgia. On March 29 the request is accepted.13 The process concludes August 29. Barlow sends a "closing statement" to FOIA and FWS staff on August 30,14 and then posts all communications onto the Torreya Guardians website.15
• 2018 - August 6 the agency announces initiation of "5-Year Status Reviews for 42 Southeastern Species", one of which is Torreya taxifolia.16 October 17, Barlow sends the agency an email pointing to three informational webpages on the group's site for inclusion in the review process, along with a request that she be invited to participate in the advisory committee.17
• 2019 - August 25 Barlow sends correspondence, with 21-page pdf, "Report to Secretary of the Department of Interior and Director of Fish & Wildlife Service: Volunteer Actions of Torreya Guardians SupportNew Endangered Species Administrative Policies"
• 2019 - September 9 Barlow, as an individual citizen, files a 26-page "Petition to Downlist from Endangered to Threatened."18
• USF&WS Policy correspondence reply from USF&WS to Barlow (23 October 2019) re both the August 25 "Report" and the September 9 "Petition"
• 2020 - USFWS issues second update of the original 1986 recovery plan.19 July 30 the updated plan is posted. Barlow was not included in agency consultations, nor notified of the posting. The plan references particular pages of the Torreya Guardians website six times as sources of information. The group itself is mentioned once in the text of the document, where it is identified as "a religious group based out of northern Georgia that was created in 2004." Barlow posts on the Reports page of the Torreya Guardians website20 that she interprets as "slighting and slander" the updated plan's characterization of the group. She then lists and describes "two other substantive/legal lapses in the 2020 revised plan": (1) "Absence of reporting any documentation of SEED PRODUCTION NUMBERS and ultimate destinations in any of the ex situ plantings northward of Atlanta Georgia." (2) No progress in developing a "Preventing Extinction Emergency Plan."
• 2021 - USFWS publishes its decision, September 29, on Barlow's 2019 petition to downlist. The agency finds that "the petition does not provide substantial scientific or commercial information indicating that the petitioned action may be warranted."21, 22 September 30, Barlow sends a 3-page response to the agency, with this summary: "Your petition decision is fair and sound. Please consider urging F&WS to develop an explicit 'climate adaptation' policy similar to what NPS published in April 2021, such that habitat amelioration need no longer be limited to the species 'historic range'.23
__________
01. "Genus Torreya in North Carolina: Planted specimens and their offspring". Torreya Guardians.