Learnings are chronologically organized, from the most recent • Visit our Reports page for more accomplishments
---
2018 SUMMARIES of Evidence that Clears Way for Assisted Migration
Throughout the past 14 years, Torreya Guardians have site-visited and photo-documented horticultural plantings of Florida Torreya in northward states that are at least 50 years old. Because the 2010 official recovery plan will be updated in 2019, Connie Barlow aggregated what these groves teach us onto a new webpage:
• 2018: Historic Groves of Torreya Trees: Long-Term Experiments in Assisted Migration
Field examinations of historic groves of Torreya taxifolia planted north of its peak glacial range in Florida confirm that

(1) Torreya can thrive and naturalize in northward states.
(2) It will not become invasive if assisted to migrate north.

Lack of documentation establishing the combination of thrival and non-invasiveness were the key obstacles to adding an assisted migration action to the management plan for Florida Torreya during the plan update in 2010. The advisor whose written statement included an objection to northward experimentation is listed as Ms. Tova Spector (Florida Park Service). Her objection is quoted on p. 25 of the 2010 Recovery Plan Update. She stated:

The reason for not moving Torreya taxifolia outside of its range was addressed by Schwartz (2005). Moving Torreya outside of its range would alter the natural community where it is introduced. In addition the species may be susceptible to decline from factors in the introduced location. Instead trees should be safeguarded in botanical collections until the causal agent(s) for its decline can be mitigated in its historical range.... The author [Mark Schwartz] also stated that, "if assisted migration is going to be used sparingly, and only in conditions where the need is dire, then the conservation community should begin now to specify and advertise a consensus view on when this may be appropriate." As I stated in this document, before an emergency plan is implemented, guidelines should be developed.
---
• 2018 Summary of Academic Papers Trending Toward Assisted Migration
Much has been learned in the eight years following the 2010 plan update, including:

(a) ACADEMIC PAPERS ON ASSISTED MIGRATION. Prof. Mark Schwartz, whose 2005 paper was listed in the above quotation as the scientific basis for not authorizing an assisted migration experiment in the 2010 plan update, became lead author in 2012 of a 31 co-author paper that established guidelines for assessing the risks (including non-thrival and possible invasiveness) prior to conducting "managed relocation" of a climate-challenged species. And in 2009 he was coauthor of a 22-author paper, "Multidimensional Evaluation of Managed Relocation", the data supplement of which applies an evaluative framework to three case studies, the second of which is Case 2: "Translocating Torreya taxifolia to the Southern Appalachians". That 2009 case study, combined with the 2018 compilation of Historic Groves documentation by Torreya Guardians, offer a combination of field evidence and academic evaluation supportive of assisted migration for this left-behind glacial relict species. Heightened scientific projections of the magnitude and rate of ongoing climate change (IPCC 2018 report) should also play a role in the 2019 recovery plan update, as should the positive attention afforded assisted migration in parks management reported in the Jan-Feb 2019 issue of Sierra Magazine and its inclusion in chapters 7 and 28 of our nation's Fourth National Climate Assessment, November 2018. As well, a 42-coauthor review paper published in 2018 can help advisors and decision-makers put Florida Torreya considerations within the context of leading-edge academic understandings at the global scale: "REVIEW PAPER: Managing consequences of climate-driven species redistribution requires integration of ecology, conservation and social science.

(b) TORREYA SEEDS CANNOT BE STORED. Torreya's seed is recalcitrant and cannot be stored except via cryo-preservation following laboratory manipulation of tissue culture via "somatic embryogenesis". The thousands of seeds currently being produced ex situ must therefore be used for plantings or will be lost. They cannot be inexpensively stored. Also in 2018, a paper published in Nature Plants confirmed that a large proportion of plants (especially endangered plants and notably trees) have recalcitrant seeds that cannot be stored: "Seed banking not an option for many threatened plants".

(c) ASSISTED MIGRATION AS MODERATE COMPARED TO GENETIC ENGINEERING. All attempts to ensure Torreya survival in the soil and other conditions within the geographic boundaries of Torreya's native Florida range have failed. In 2018 genetic engineering of the genome was offered to infuse disease resistance. Authorizing assisted migration experiments would be a moderate next step compared to moving forward with genetic manipulation.

(d) Forestry researchers have charted the way for assisting the poleward movement of tree species and genetically distinct populations of trees during what is now widely acknowledged as a century of climate change far more rapid than seeds of many species can disperse. Conservation biologists can quickly access the key forestry research papers on assisted migration to ensure that their own understandings are congruent with the imperatives of climate change adaptation, as pioneered by forestry researchers who compute how climate projections will affect range shifts of America's native trees species.
---
• 2018 Documentation: Free-Planting Torreya Seeds directly into forest habitats
A NEW WEBPAGE of LEARNINGS by Torreya Guardians (posted December 2018) may assist the recovery of Torreya taxifolia in a very practical way: Assisted migration experiments can be implemented inexpensively:
More than a half-dozen Torreya Guardians began experimenting (as early as 2011) with "free-planting" seeds directly into their ultimate within-forest destinations. This new technique bypasses the labor-intensive, bulky, and potentially costly initial phase of poleward plantings that germinates seeds in pots or wire-protected soil beds prior to final planting (which, again, has often included wire cages for each specimen). In 2018 results were aggregated into a new photo-rich webpage, which will be updated ongoingly.
Results are presented in topical sections:

• Risks and Advantages of Free-Planting
• Learnings 1: Seed Harvesting, Storage, Germination
• Learnings 2: Techniques To Deter Seed Predators
• Learnings 3: Torreya Recovers from Herbivory
• Learnings 4: Siting to Minimize Above-Ground Herbivory
• Learnings 5: Siting to Minimize Antler Rubbing
• Learnings 6: Natural Seedlings in Historic Groves
Field documentation of the 6 seedlings that grew and survived with no human help, following "free-planting" of 15 seeds directly into forest soil in April 2015. Russ Regnery was the planter, within his forest at 3,800 feet elevation on the slope of Black Rock Mountain, near Franklin NC. Video clips of the 2015 planting (Episode 12) are matched with the actual seedlings closely photographed and analyzed Nov 2018. Results: Four summers later, this species exhibits remarkable capacities to recover from early stem and leaf herbivory.

VIDEO 28: Free-Planting Florida Torreya - 2018 Update
Free-planting experiments have ranged from projects of just 6 seeds to 400 seeds. Our 400-seed planting family, Chris and Christina Anderson (Spring City, TN) have become our foremost example of how free-planting can be done quickly, inexpensively, and well documented (flagged) to facilitate year-by-year appraisals of results:
November 2015 Chris and Christina Anderson planted 400 seeds over the course of two days in several sections of their 232 acres on an eastern ridge of the Cumberland Plateau.
All planting sites were marked with colored flags, using best practices: placing a rock atop each seed or planting 3 inches (or more) deep.
Most seeds were planted within two ravines (visible at the SW and NE edges of the bounded red section shown on this map. Some were also planted along the firebreak jeep trail in the uplands, as these sites can regularly be checked without walking off-trail.

Canopy cover where plantings occurred are mostly deciduous, with some old hemlock groves in the deepest ravine.
First seedlings were observed August and September of 2017. Chris Anderson guided Connie Barlow (and her video camera) on a site visit November 2017:
VIDEO 24: Florida Torreya to Cumberland Plateau - Rewilding an Endangered Tree

By far the most expansive and exciting experiment in "rewilding" Torreya taxifolia into northward states began in November 2015 on the Cumberland Plateau of Tennessee. All 400 seeds were "free-planted" directly into the ground — either 3 inches deep or under rocks — to protect the seed from rodent predation. Two years later, Connie Barlow video-documented the beginning success of 38 new seedlings.

Part 1 (24 minutes) • Part 2 (23 minutes) filmed November 2017
---
• 2018: FREE-PLANTING LEARNINGS USED TO UPDATE INSTRUCTIONS TO PLANTERS
Our webpage of ADVICE FOR PROPAGATING TORREYA has been updated to offer clear advice of Best Practices for Free-Planting Seeds:
1. TO DETER SEED PREDATION: Plant seeds at least 3 inches deep (4 to 6 inches may be best). Flat rocks placed over a seed may also help, but the dangers of rocks are that they attract ants, may prevent the seed from accessing rain, and may force the germinating stem to circle around before finding a way to pop out the side (usually upslope). See PHOTOS of good and bad results at this section of our detailed free-planting webpage.

2. TO DETER ABOVE-GROUND HERBIVORY: Newly emerged stems and leaves are vulnerable to toothed herbivores upon emergence. Even when the needle-like leaf tips harden, deer and rodents may still nibble and sample. As a subcanopy-adapted tree, Torreya is usually capable of regrowing — again and again, very quickly adding extra vertical stems (as well as regrowing lateral branches) so that the little seedling becomes less and less vulnerable to herbivory as the years pass. (See photos of herbivory recovery on our free-planting webpage.) As of 2019, we have several siting recommendations for free-planted seeds that are not given any wire protection upon germination:

2A. PLANT SEEDS WHERE DEER ARE LEAST LIKELY TO VENTURE: Possibilities include a deep densely vegetated ravine and the steepest slope you can find. Possibly within the thicket of branches of a recent treefall.

2B. PLANT SEEDS WITHIN THE OUTER REACH OF EVERGREEN FERNS. Fall of 2018, three locations documented that the only free-planted individuals that had escaped above-ground herbivory after three or more years were camouflaged during the winter by evergreen fern fronds. One of the three examples is shown in photos below.

♦ FIND THE TORREYA IN THE PHOTO DIRECTLY BELOW:

The Torreya LEFT has the same camera angle as the photo ABOVE, so you can definitely find it on your own. This perfect little seedling showed no sign of herbivory. (December 2018)

This rural area of NE Alabama is a patchwork of cattle grazing and other fields, regrowth forest, and routine logging. Deer are not abundant and certainly not overpopulated here. But prints do turn up regularly in muddy sections of this forest.

This was the only one of 13 emerged seedlings camouflaged by Christmas fern fronds — and it was the only one not damaged by herbivory.
---
• 2018: DOCUMENTATION OF ADAPTIVE GROWTH FORMS (10 YEAR RESULTS)
UPDATED WEBPAGE: The Lake Junaluska locale in North Carolina (planted with 10 potted seedlings in 2008) offers insights for helping endangered species recovery ten years later. ADAPTIVE GROWTH FORMS is one of the key insights:
ADAPTIVE GROWTH FORMS - If afforded the opportunity to grow in open sunlight, Torreya takes the form of a standard conifer. If the habitat is shaded subcanopy, its form is yew-like and growth is much slower. Because Torreya genus is not a pioneer-sere taxon, only human intervention in cutting back overgrowth shade can maximize Torreya's growth potential and induce an upright form (and early seed production). As of 2018, no reproductive structures have been observed on even the tallest individuals.
1. HORIZONTAL V. VERTICAL GROWTH FORMS:
VIDEO 29: Florida Torreya to Lake Junaluska NC - 2018 update

Ten years after the 2008 planting of ten potted seedlings as a first "assisted migration" project (reported on by Audubon Magazine), Connie Barlow returns to document ongoing results. The challenges, the successes, and the learnings are all topics covered here and also on the Lake Junaluska webpage.

A key learning is how Torreya is capable of adapting its growth form to conditions of shade (horizontal, yew-like form) or abundant sunlight (standard conifer form).
2. LONG, GROUND-LYING BRANCH ADAPTATION:
Autumn 2018 Torreya Guardians Clint Bancroft and Connie Barlow visited 3 mature Florida Torreyas planted 68 years ago at DORMON NATURE PRESERVE in north-central Louisiana.

PHOTO LEFT: At Louisiana's Dormon Preserve, Torreya Guardians photo-documented the third example of the ground-trending, long-branch growth form that we had documented previously at two North Carolina sites of near-century-old groves.

Note: The photo left appears on the new in 2018 Louisiana Torreya webpage. Barlow also captured video footage during the site visit, published on youtube as a 70-minute VIDEO in two parts (episode 30) "Florida Torreya in Louisiana - Mature Grove with Seedlings".
One hypothesis for the conditions that trigger this growth form is that a torreya tree that begins its life in open sunlight (and thus assumes a vertical-trending, conical conifer form), has a back-up adaptation if and when fast-growing species of trees close in and begin to overtop it. That growth form is this:
GROWTH FORM ADAPTATION TO OVERTOPPING: One (or more) of Torreya's lower branches on the sunniest side, usually south-facing, and which emerge no more than 3 feet above ground on the main stem, will reestablish fast horizontal growth. The branches will be supported by the ground in their quest to reach sunlight. When direct sunlight is accessed, the branch thickly fills out leaves and branchlets to maximize solar collection. Branch lengths easily reach out 20 or 30 feet distance from the main stem, while the thickness of the branch at trunk emergence remains uncharacteristically thin, thanks to ground-level support.
The photos below show the same ground-lying branch form at two other mature groves:

BELOW LEFT is BILTMORE (NC) 2018. Right is HARBISON HOUSE (NC) 2015 with Jack Johnston.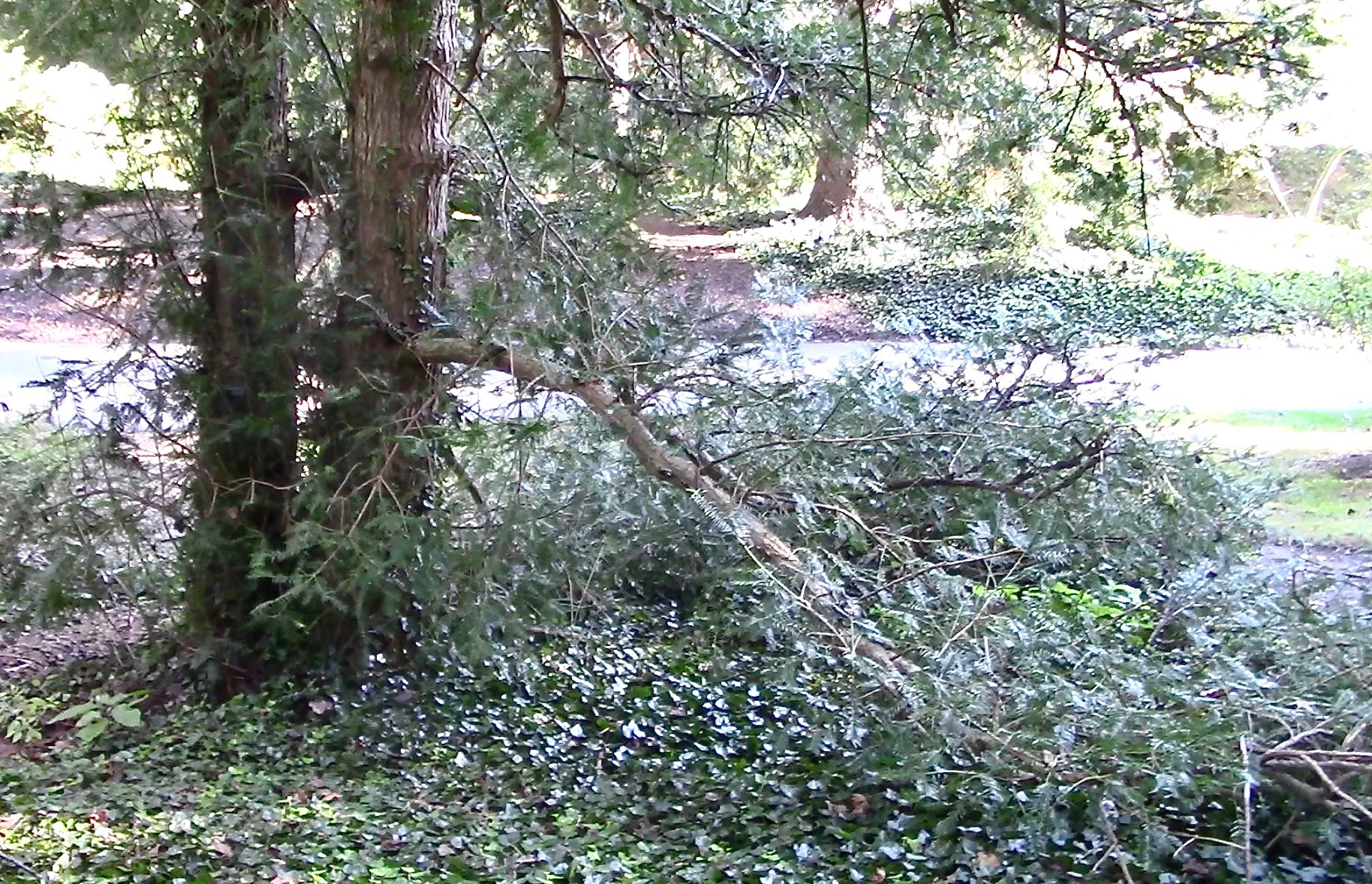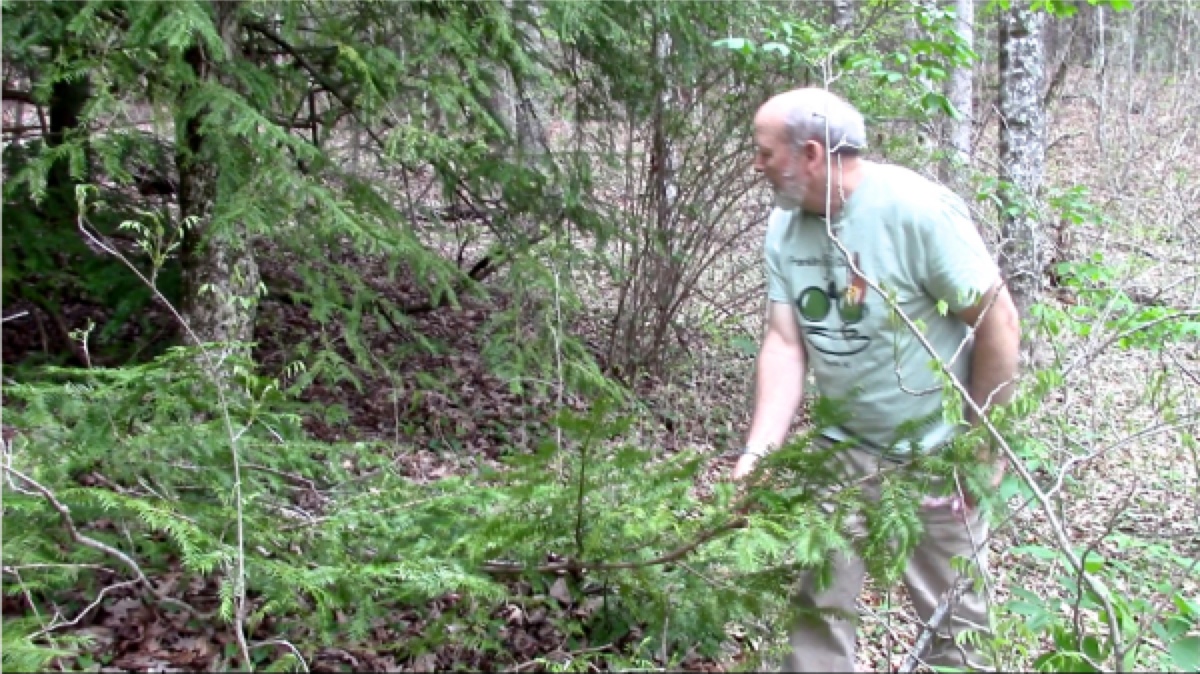 ---
• October 2018: Cleveland OHIO seed-grown Torreya female produces 19 seeds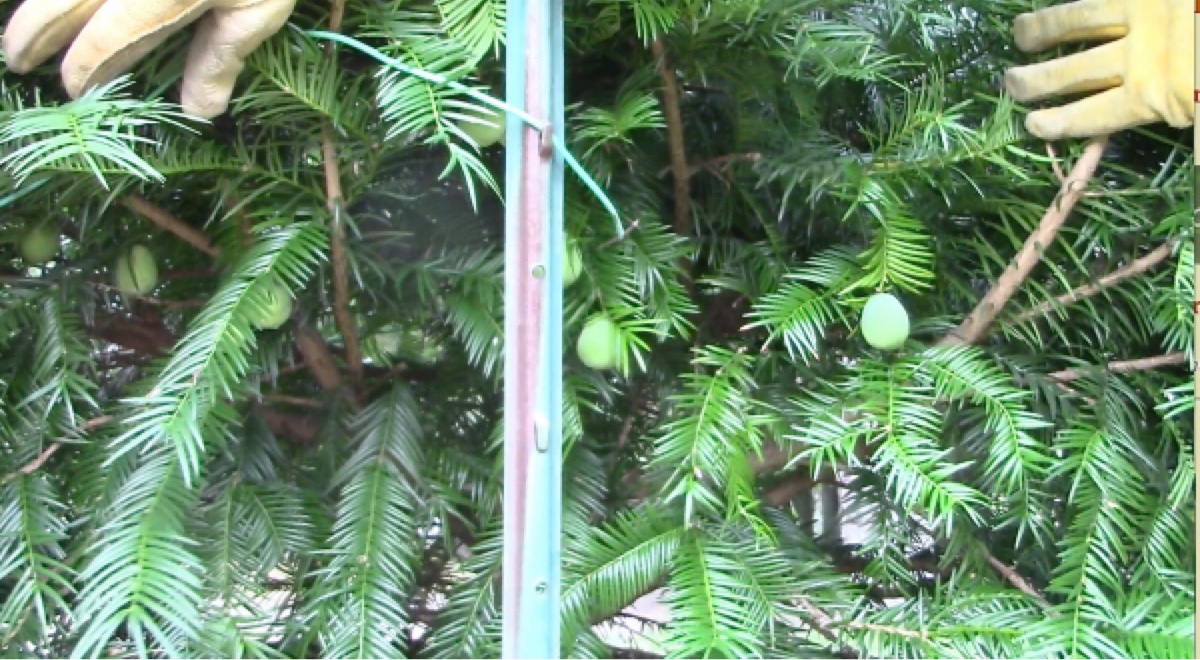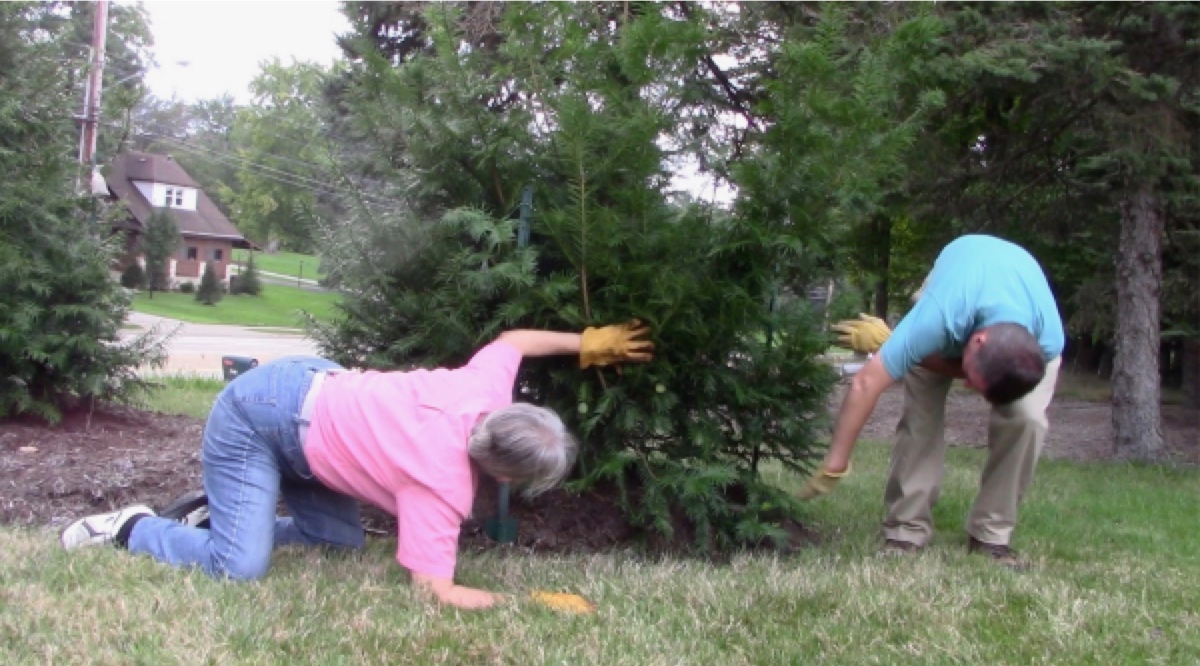 Connie Barlow and owner-grower Fred Bess search for seeds on October 2. All 19 are on the sunniest side of the tree (see the tall Blue Spruce at far right). All seeds are hidden/protected from winter winds by growing on interior branchlets of the kind of dense, Christmas-tree form that Torreya saplings assume when afforded a lot of sun. (Surroundings must be mowed to make this possible; otherwise, regrowth forest and shrubs shoot up much faster than torreya can grow.)
The seeds will become orange-purple when ripe in late October. Squirrels will likely be able to steal the seeds from the lowest branches, but the needles are so sharp (notice the gloved hands) and the tree so shrubby that the several that are 2 or 3 feet high may be safe from rodents.
Visit the Cleveland Ohio Torreya webpage, for the full image-rich, year-by-year report of Fred's set of four torreyas (2 females, 2 males), and WATCH VIDEO (below):
KEY FINDINGS:

1. These trees have put forth leaves well acclimated to severe cold spells in Ohio.

2. Seeds are produced only on the branches that receive nearly full sun. (Connie notes from her 2005 site visit to wild California Torreya habitat that this seems to be a standard of the genus.)

VIDEO: 14 minutes, filmed 2 October 2018
---
February 2018: Learning Florida Torreya's capabilities by visiting its California cousin
In 2005, Connie Barlow visited 4 forested regions in California where Torreya californica could be found growing in the wild. Her aim was to experience and photo-record observations of the trees and their surrounds such that volunteer planters of the Torreya species native to the eastern USA (along with professionals in charge of this endangered species' recovery) could discern habitat preferences of the genus and thus pinpoint similar environments in eastern states for planting seeds and seedlings.

Photo-essays of California Torreyas from her 2005 site visits have long been posted on this website, but in 2018 she edited them into a VIDEOBLOG in two parts: Part 1 (25 minutes) and Part 2 (27 minutes).
Key photos include those that demonstrate the ability of Torreya californica (a subcanopy tree) to grow on exceptionally steep and shady slopes — even in the company of forest giants such as Coast Redwoods and Douglas-fir.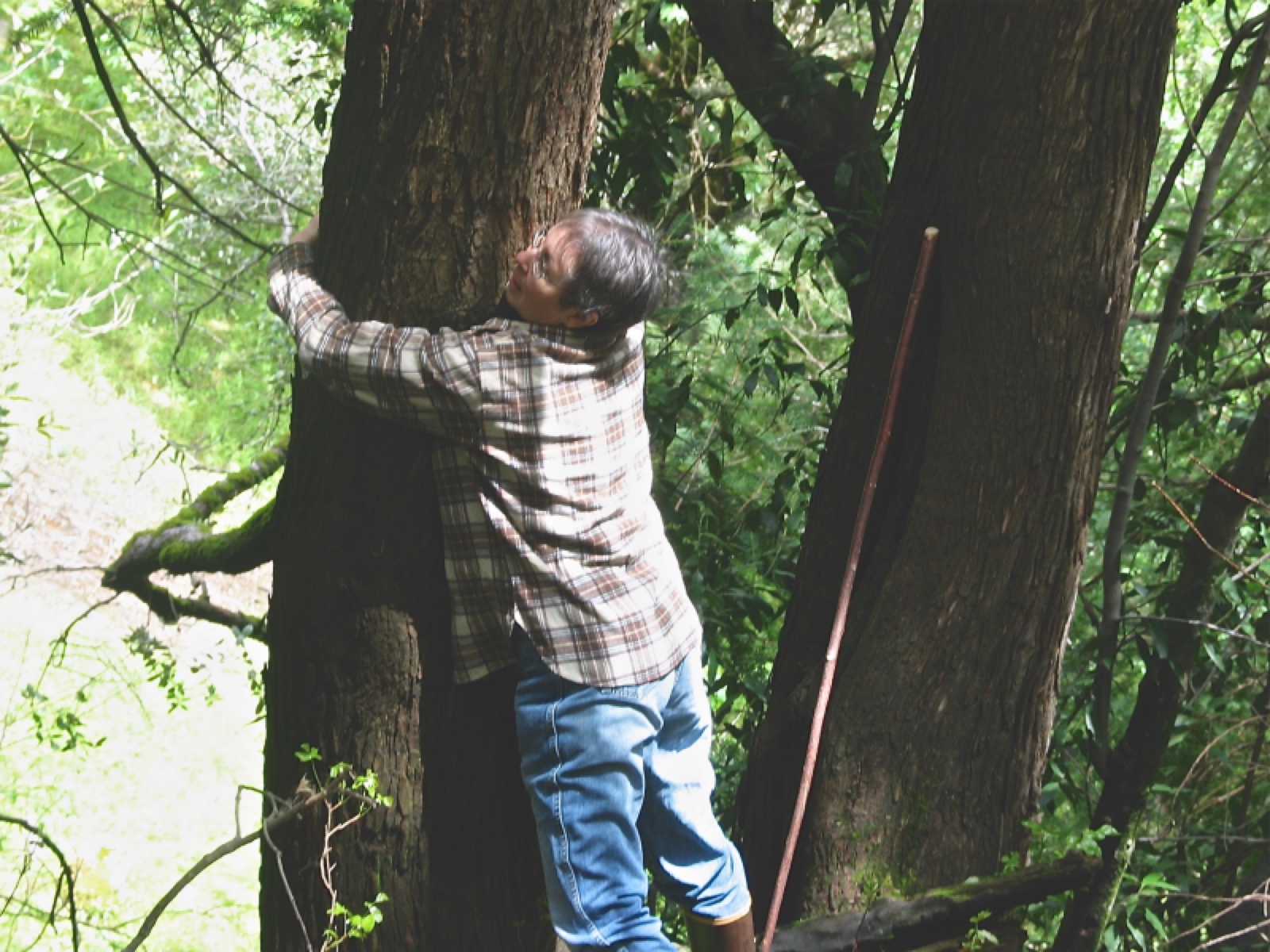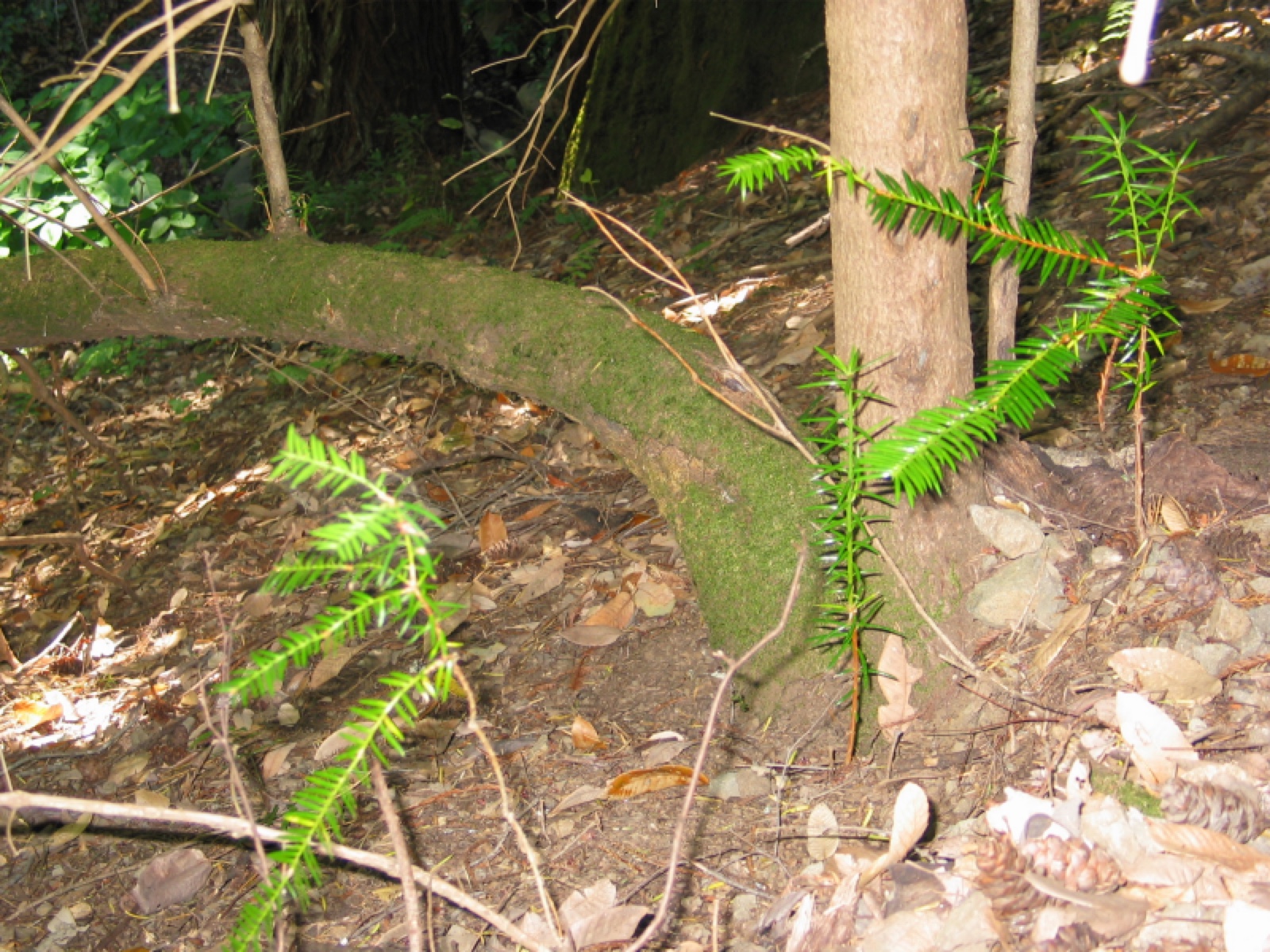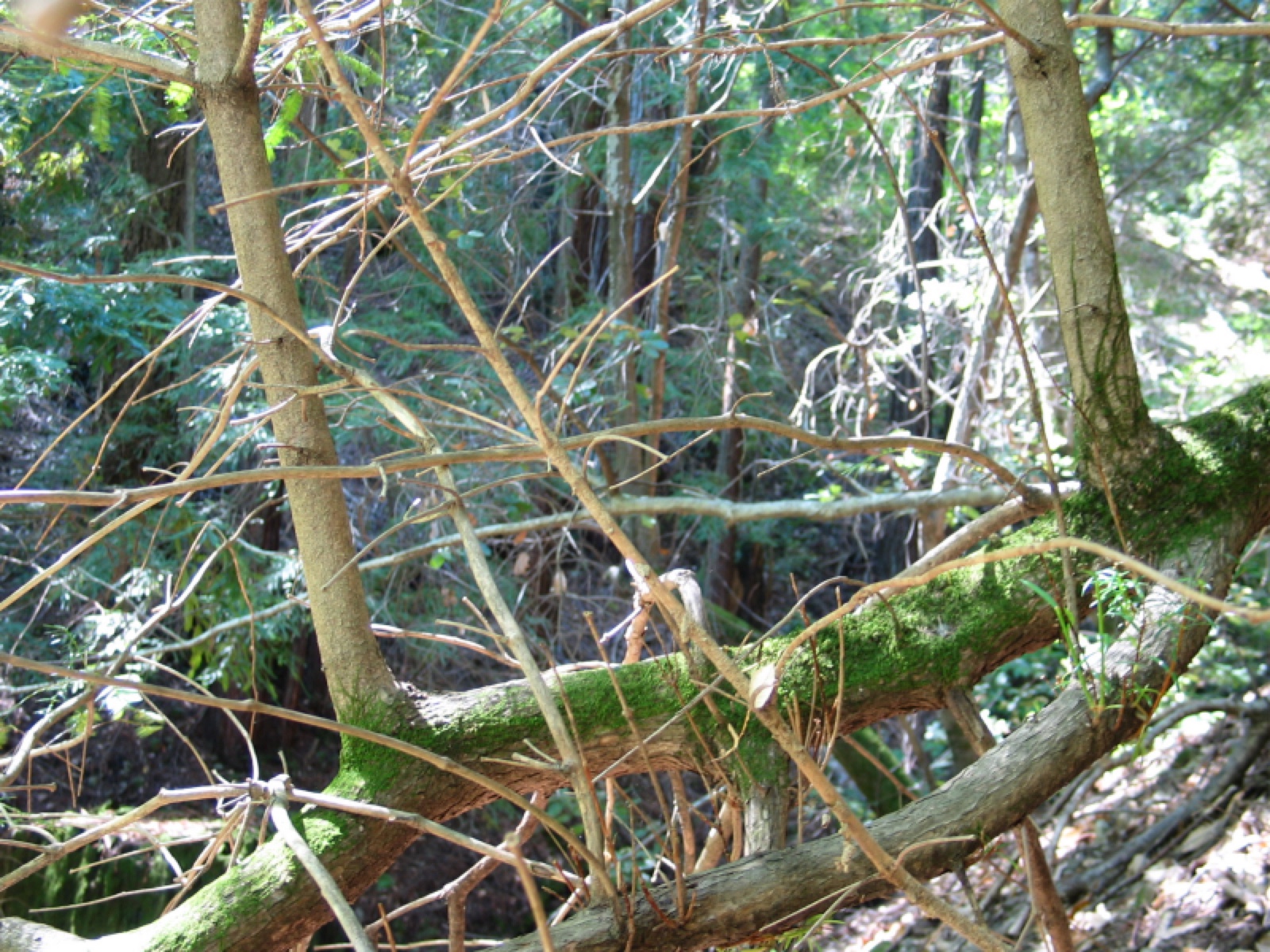 LEFT: Connie extends measuring tape around one trunk of a double-trunked tree in Kings Canyon Sequoia National Park.
MIDDLE: This genus keeps resprouting new basal stems, even when disease-free, in quest of sunlight. The moss-laden left-leaning stem is still alive and has sprouted a series of vertical branches along its now-horizontal stem (Coast Range near Calistoga).
RIGHT: Another example of a downslope-leaning healthy stem sporting vertical stems reaching for dappled sunlight. (Coast Range near Calistoga).
---
December 2017: Torreya seedlings are HARDY IN NEW HAMPSHIRE
DAEIN BALLARD received seeds from 2013 harvest, germinated them in his greenhouse, then outplanted the seedlings in 2015. Two years later he reports:
This year (2017) no more of the Torreyas from the first planting died. We had a wetter than usual year and I'm not sure if that was a shocker for them after last year's drought. However, only a few seeds that I planted out a couple years ago germinated, and all of the new seedlings were eaten by rodents. I have seedlings from Jeff that are from the same stock/year as those that I will plant out in the spring.

It seems to me Torreya can survive in a central New England climate like mine, though the competition from other better-adapted trees may be a bit stiff for them. Although the Torreya's endurance (for my climate) as seedlings seems mid-range from the other trees I've dealt with. They don't sprout nearly as aggressively as Chestnuts or Oaks. They do however seem to be more tolerant of environmental changes after they have sprouted (Chestnut and Oak seedlings died where Torreya survived in last year's drought). They are much heartier than the Pawpaws I planted (not one seed germinated and the seedlings need to be babied). The healthier Torreya I had that I planted in full sun lost most of their needles pretty quickly last spring due to the drought the previous year. They put on new growth but time will tell if they recover.

| | | | | |
| --- | --- | --- | --- | --- |
| | | | | I've also attached pics [left] of the potted seedling Jeff gave me a few years ago. It's done great where I planted it. We got hit by a snow storm followed by an ice storm and it's still doing good. The female rooted cutting I got from Nearly Native Nursery is also doing well. The branch that broke last winter seems to have completely healed and recovered. It also pulled through the ice storm. It'll be interesting to see how these trees fare when they are larger and get hit by an ice storm. I have a feeling the seed-grown trees will do better due to their Christmas-Tree shape vs. the random bush-like shape of the rooted cuttings. |

0CTOBER 2018 UPDATE (Daein Ballard, New Hampshire): "It seems that direct contact with ice on the Torreya needles damages them. Snow that falls on them doesn't seem to cause damage (in fact, snow seems to provide protection), but it's when it rains on them and then the rain freezes on the needle. I looked around and I was surprised no one has seemed to notice this before, since ice storms are more common in the south than in New England.
---
November 2017: Superb way to naturally DETER RODENTS
1. WHEN "FREE-PLANTING" SEEDS: Although there are no ways to absolutely ensure against losses when "free-planting" Torreya seeds directly into forest soil, we now have enough experimental evidence to suggest some best practices for this form of planting. But first, let's remember the definite advantages of free-planting: (1) avoids root trauma as well as water, soil, temperature, and sun "shock" that potted seedlings may experience when out-planted; (2) offers best opportunities for early and long-lasting establishment of mycorrhizal fungal associates; (3) eliminates possibility of taproot repression; (4) offers best opportunity for local climate adaptation during the seed's prolonged embryo development prior to germination.
LEFT: Diana Spiegel takes Connie Barlow on a tour of her free-planted Torreyas on 9 November 2017. In September she had noticed that 7 of the 12 seeds she planted spring 2016 (from fall 2014 seed harvest) were now 4 to 6 inch tall seedlings. All were planted on this south-facing forested slope along a creek south of Dayton OH, deciduous canopy.
Each seed had been planted 6 inches deep and was surrounded by a mesh of chickenwire also buried 6 inches (and staked). Confirming that Torreya seeds easily sprout at that depth is important news for future free-plantings seeking rodent protection via depth.
LEFT: Chris Anderson points to a newly sprouted Torreya seedling in his Cumberland Plateau stewardship forest.

By far the most expansive and exciting experiment in "rewilding" Torreya taxifolia into northward states began in November 2015 on 232 acres of the Cumberland Plateau of Tennessee. All 400 seeds were "free-planted" directly into the ground — either 3 inches deep or under rocks — to protect the seed from rodent predation. Two years later, Connie Barlow video-documented the beginning success of 38 new seedlings.
2. WHEN OUT-PLANTING POTTED SEEDLINGS: Over the years, we have learned the hard way that, when out-planting seedlings into their final patch of ground, it is crucial to shake out any perlite that might have been in the potting soil. If the soil around the stem and roots is more attractive than the surrounding soil for small rodents to burrow through, then the Torreya is doomed. (See examples of rodent damage in the December 2016 entry below.) Now we have learned that it is easy to make the planting soil even less attractive to rodents than the natural soil that surrounds the hole. Jack Johnston (GA) and Clint Bancroft (TN) report success with this technique: Simply, add gravel and/or pieces of shale to the soil mix you use to fill the hole!
---
March 2017: Learnings from Ex Situ Seed Propagation Sites in Oregon
In February 2017 Connie Barlow visited 2 ex situ Torreya taxifolia propagation sites in Medford, Oregon. The four specimens were planted 22+ years ago by Medford resident (and plant expert) Frank Callahan, who led Connie on a tour of these sites. He also donated to Connie a bucket of 1,000 seeds harvested from the 2 specimens that, together, produce prolifically. The prolific pair are seed-grown, while the pair rooted from cut branchlets produce mostly small, woody (infertile) seeds. All four specimens were originally sourced from the National Arboretum in Washington, D.C.

Watch the 24-minute VIDEO: "Florida Torreya Seed Production in Medford, Oregon (2017)"
LESSONS & NEW EXPERIMENTS:
1. CAN WE OBTAIN VERTICAL TREE FORM GROWTH FROM CUTTINGS? Confirmation that rooted branchlets will not develop into single-stem trees (they adopt a shrubby form). This is advantageous for early pollen or seed production, but it is inconsistent with "rewilding" this species into regrowth forests poleward of its Florida range.
Frank Callahan will begin an EXPERIMENT in clipping the vertical "sports" on the tips of branches of the two shrubby specimens and attempting to root them in ways that might yield specimens that ultimately grow in the form of a single trunk that is indistinguishable from seed-originated trees (except possibly still lacking basal ancillary stems).
DECEMBER 2017 UPDATE: Torreya Guardian Clint Bancroft is experimenting with rooting leaders cut from the basal sprouts (leaders cut from mature trees in Madison FL, Columbus GA, and Highlands NC). Such leaders already display the vertical growth pattern, and thus our hypothesis is that rooting such will yield specimens with the same vertical aptitude as displayed by specimens grown from seed.
JULY 2018 UPDATE: Connie Barlow just noticed that an online list of actions included in the official recovery plan (USF&WS) confirms that rooting cuttings from vertical "leaders" (such as those found on basal sprouts) is necessary for nurturing a tree-like v. a shrub-like growth form: "The ABG has switched to propagating cuttings made from 'leaders' (the rapidly growing apex of a tree). This process forms upright plants of about two-feet tall in about two years." See the 17th column ("Comments") of the 11th row (action #322) at Recovery Plan ad hoc Report Results.

2. SHADE/SUN PREFERENCES & TOLERANCES. Florida Torreya is harmed by sudden exposure to direct sunlight. Ecologically Torreya taxifolia is a subcanopy tree species, and further observations of the total plantings by Torreya Guardians will help to answer which shade conditions are ultimately recommended as a balance for encouraging growth, yet keeping specimens safe from summer drought and icy winter winds. (Frank and Connie agreed that east-facing sun exposure is the safest.) Note: Watch 16:18 timecode of the Torreya Guardians VIDEO: "Florida Torreya Grove at Biltmore Gardens NC: 75 years old." There you will see that even ten years after a hurricane destroyed a pine overstory, thus exposing the Torreyas to sudden direct sunlight, the trees have not recovered. While there is no visible sun-scald, the only rich vegetative growth is lower down the trunks — including tall, brushy basal growth on the full-sun side of two of the trees. As with lush basal growth in Coast Redwood trees following topping or loss of the main stem, it is possible that this flush of basal growth may be the fastest way for the tree to regenerate photosynthetic capacity — and thereby keep alive nearly all of its mature extent of root development — before it attends to producing a new leader that can resume upper-level growth. California Torreya is possibly more sun-tolerant than Florida Torreya is.
UPDATE ON SHADE V. SUN, APRIL 2017: Daein Ballard (see his New Hampshire Torreya project) is a molecular biologist, so a query to Torreya Guardians from a USDA soil scientist, Anita Koehn, was forwarded to Daein. "Diurnal patterns of chlorophyll fluorescence and CO fixation in orchard-grown Torreya taxifolia", by Anita C. Koehn and Robert I. Doudrick was published in 1999 in Journal of the Torrey Botanical Society. Torreya Guardians has long experience with (a) the importance of leaves supporting photosynthesis for multiple years, yet (b) the detrimental effects of moving potted seedlings with shade-adapted leaves into sunny environments when outplanting. Daein's hypothesis thus far:

"... I made sure to collect samples of both the needles that grew in the shade and the needles that grew in the sun. Within minutes of collecting the samples, I imaged them alive under a light microscope at 200x with no stain. I imaged them both dry and wet (the needles submersed in water). I've attached some crude images I took with my cell phone through the eyepiece. I'm not an expert in this area but it seems the stomata on the sun-grown needles are smaller. Additional to that I noticed that it seems the stomata on the shade-grown needles stay open even when dry, while they are mostly closed on the sun-grown needles when dry. When wet, both needle types had open stomata..."
---
December 2016: Preventing Rodent Destruction of Torreya Roots
2018 UPDATE: Jack Johnston (GA) and Clint Bancroft (TN) suggest that, when outplanting potted seedlings, it is a good idea to add gravel and/or pieces of shale to the soil mix. This makes the soil around the torreya roots and stem even less attractive to burrowing rodents than the surrounding forest soil! In addition, it is crucial to still shake off the perlite! See below for what happens when the perlite is not removed nor gravel added.
___
Even 8 or more years after growing in open or forest soil, small Torreya trees are still vulnerable to ground-burrowing rodents that kill the trees underground by nipping off small roots and completely gnawing off bark (presumably for food value) of large roots in the upper soil layer. Wire cages protecting lower stems do not protect against below-ground gnawing. While there is no fail-safe way to guard against burrowing rodents, you can make the soil less attractive to rodents by (a) shaking off the perlite/potting soil mixture when out-planting a potted seedling and (b) having the surrounding "mulch" layer be no different than that found in the immediate surrounds.
In 2016 Connie Barlow video-recorded the sudden, over-winter deaths by rodent herbivory of three previously lush-growth Torreyas. You can watch the video segments at: 2 Torreyas killed at roots in Junaluska NC and 1 Torreya killed in Brevard NC. (The previous links will take you to the exact timecodes within the long videos where the dead trees are discovered.) Below are still images drawn from the videos.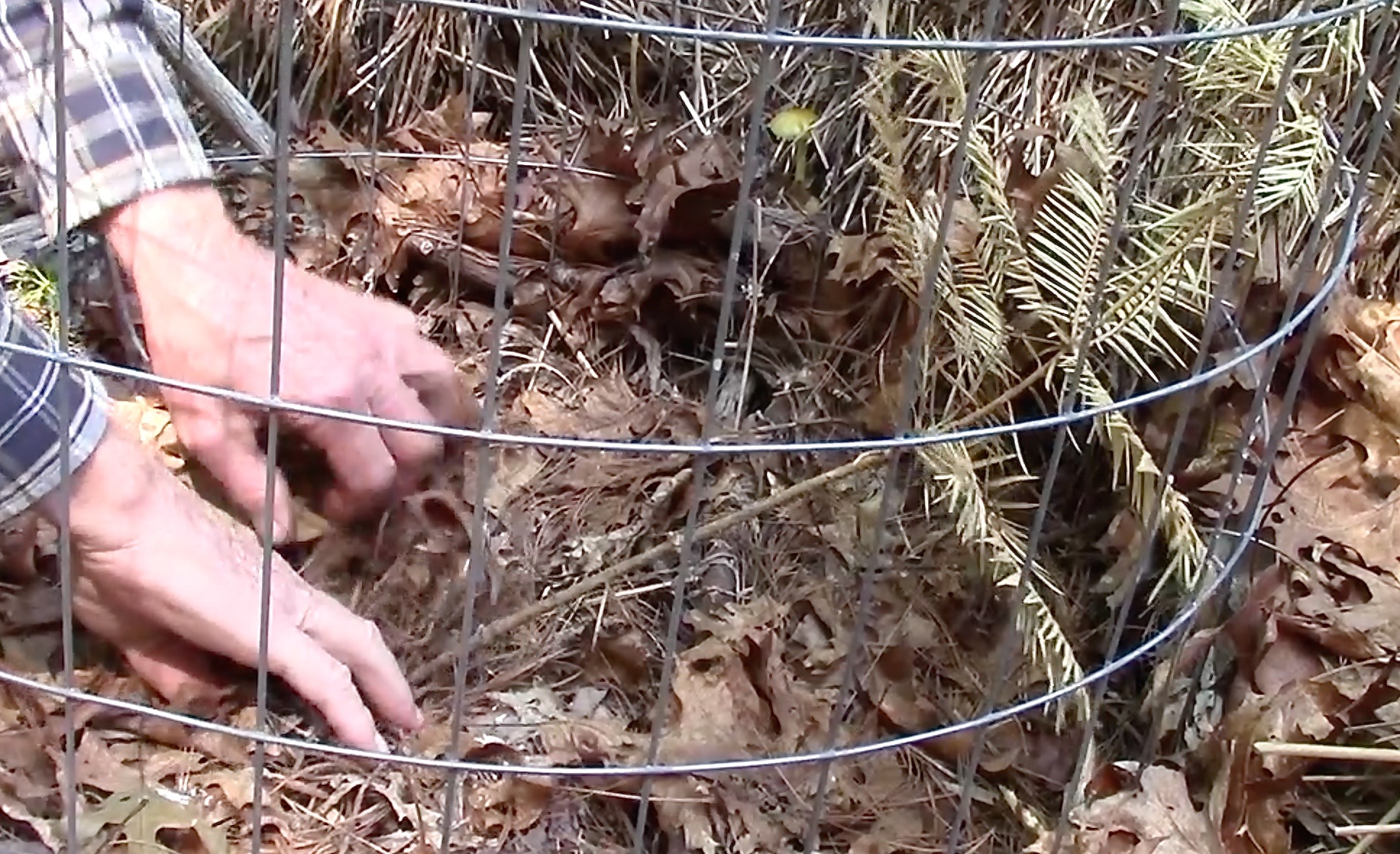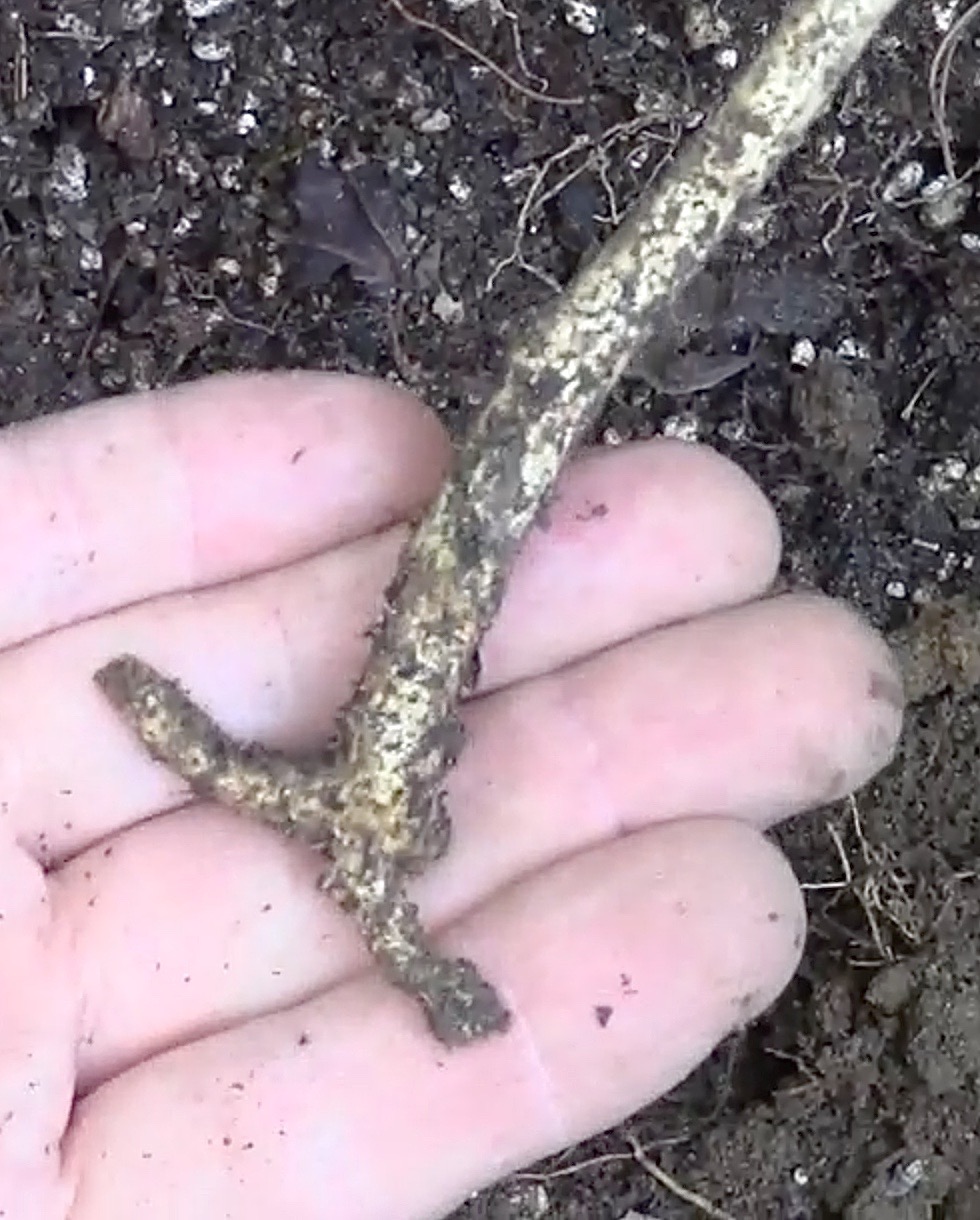 PHOTOS ABOVE were taken from the Video of 1 Torreya killed in Brevard NC. See how the roots and the living bark have been entirely gnawed away. Notice the light-colored pellets in the root photo; these are perlite. Perlite and soft soils must be shaken out of roots prior to planting. Perlite + surrounding packed soils we now know will vastly increase the rodent herbivory prospects of even carefully tended outplantings.
PHOTO LEFT was taken in Spring 2016 by Connie Barlow at the Corneille Bryan Native Garden (Junaluska) site near Waynesville NC. That was where Torreya Guardians planted 10 potted seedlings in July 2008.

We found the plant (and its above-ground metal cage) laying on their side. The perlite-infused soil was easy digging — and we immediately unearthed a chipmunk-size rodent tunnel and rodent-gnawed roots. One more of the 2008 planted Torreyas was also found in the same condition.

Previously at the Junaluska site, 3 Torreyas had been killed by rodents their first winter. All 5 deaths are in the plantings closest to a set of bird feeders at a seasonally occupied home. Equally important is that one can see tiny specks of perlite in the loose soil of the photo left.
In the 2016 Junaluska VIDEO, at timecode 05:55 you will hear Connie Barlow speculate on her Seasonal Birdfeeder Hypothesis for the rodent root damage. At timecode 26:25 she locates a nearby bird-feeder. On reflecting later, however, she regards the Perlite Hypothesis as a likely more harmful causative agent. See a 2016 report posted by our NH Torreya Guardian, Daein Ballard (posted 22 July 2016), on his observations of how best to deter chipmunks.
So we have learned the hard way: Shake off the perlite before planting out. Note that this problem of out-planting soils being more attractive than the natural soil can be alleviated by directly planting seeds into the outdoor soil ("free planting") exactly where you hope they will keep growing — but free-planting has its own substantial rodent hazards that require specific actions to curtail.
---
2016: Apical recovery from herbivore nibbling
LESSON: Seedlings do recover from even severe apical herbivory, thus resuming a vertical growth form.
PHOTO LEFT: Mid-June 2016 the right-most seedling in the pot shows new-growth trending to become the new main stem, following previous herbivorous destruction of the main stem apical leader.

PHOTO RIGHT: October 30, 2016 shows the same seedling on the day it was planted out into wild forest. It is photographed from the same angle as photo left. See that the spring new growth has now matured into vertical apical growth. But notice that the nipped-off stem also produced new apical growth from directly beneath the nipped-off top. So now there are two apical stems.
2017 UPDATE ON APICAL RECOVERY:
Photos below by Nelson Stover (Torreya planter in Greensboro NC) in sequence Nov 2016, May 2017, and Nov 2017 shows herbivore devastation followed by recovery (both budding from stem and emergence of basal sprout).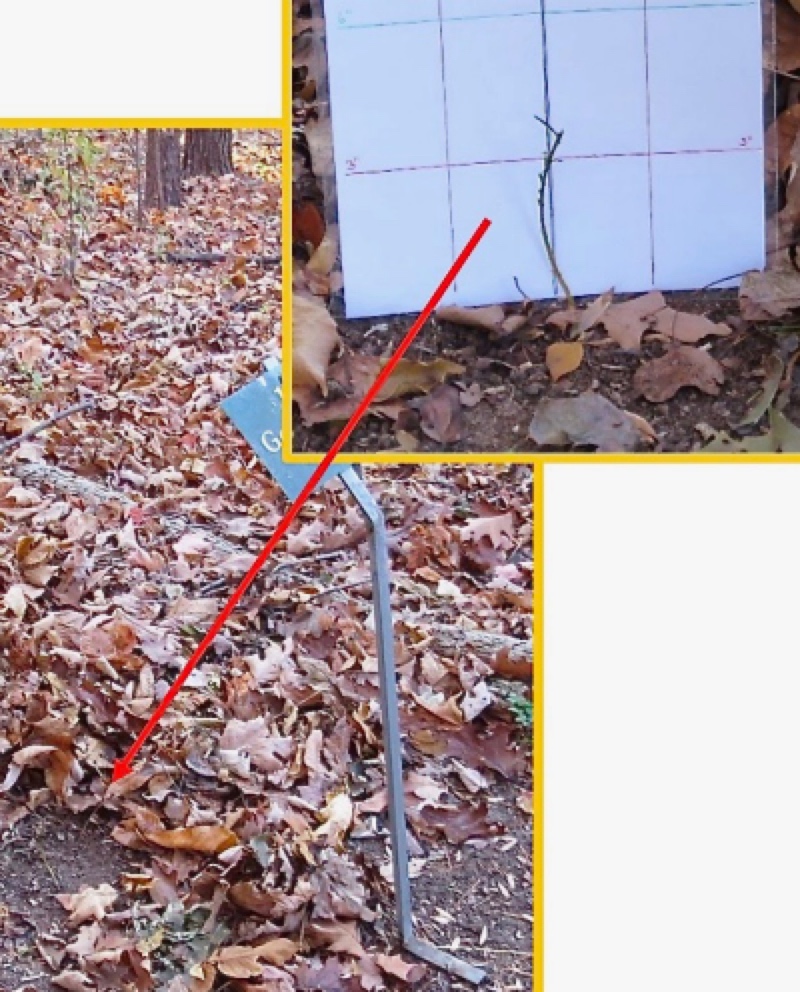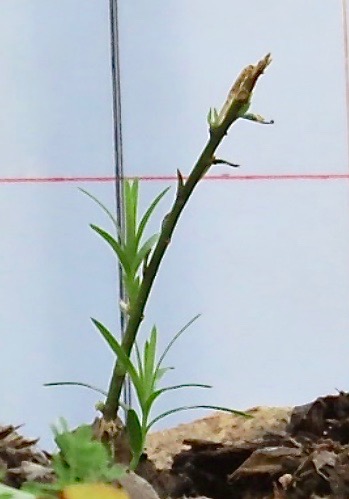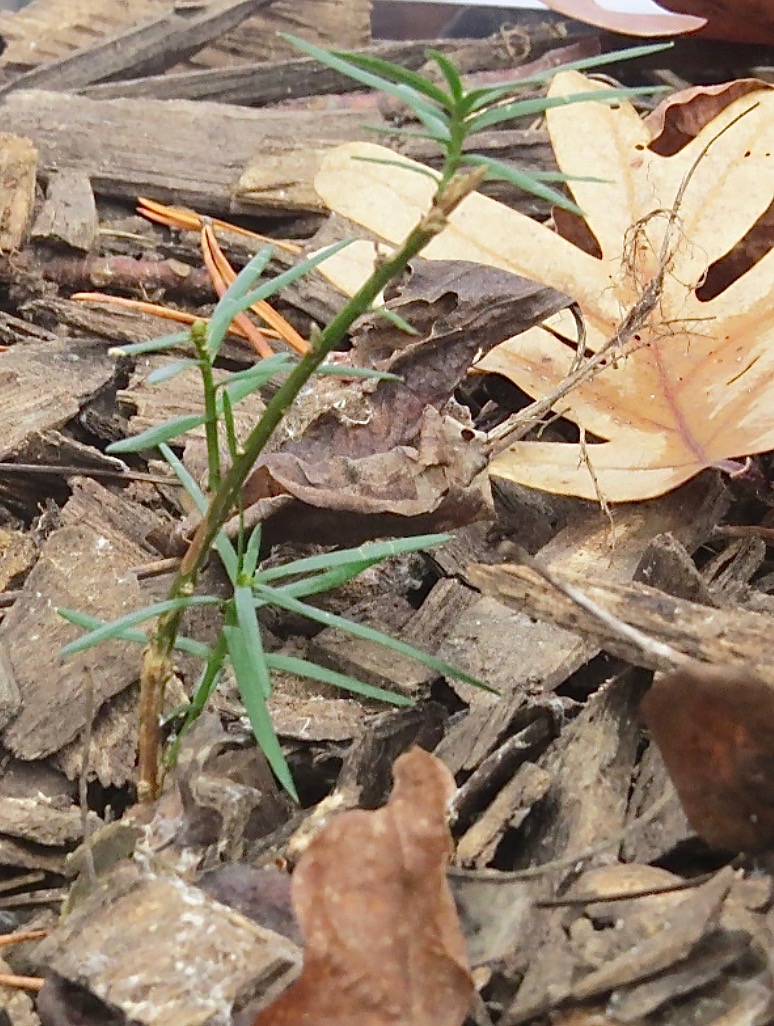 ---
2016: Surviving Extreme Cold and Drought in New Hampshire
Daein Ballard is a northern-most Torreya Guardian (s. New Hampshire) for whom 2016 offered supreme tests of Florida Torreya's ability to survive extreme winter cold and extreme summer drought. His reports:
COLD: February 2016: "Last weekend it got down to -14F, with a wind chill of -40F, which is a new low temp since I moved here. I've looked at all the Torreya and in spite of their young age they all pulled through completely unscathed. Since then it's gotten over 50F twice to give the seedlings a chance to show signs of damage if there was any. This is with all of the seedlings being at least partially exposed, since the snow was only a few inches deep. Even the most exposed seedlings in open areas show no ill effects."

DROUGHT: August 13, 2016: This summer has been the driest summer since I moved here. Although it has caused some yellowing on the more exposed seedling's needles, most seem to be doing fine. Other than when I first planted the seedlings, I haven't provided any supplemental water."
September 2016: "Just to give you an update on how things are going with my Torreya. Most are doing well, however this area is experiencing an extreme drought like nothing I've seen around here in my lifetime. All but two of the Torreya have made it this far unscathed. Two of them have died back, but put up new basal shoots. We'll see how all the rest make it through next winter; it's been really stressful for most plants around here."
---
2016: Importance of planting where MYCORRHIZAL FUNGI flourish
VIDEO 13b: Florida Torreya to Ohio's Dawes Arboretum (pt b) 2016

Documents superb annual growth on the two Florida Torreya specimens beneath a full deciduous canopy (and protected from winter winds by a border of evergreen conifers). Confirms 1-month difference in vegetational budburst bt the Florida Torreya (May budburst) and adjacent Chinese Torreya (June budburst). Speculation on the importance of nearby maple helping the Torreyas by shared fungal root symbionts.

17 minutes - filmed June 18, 2016
In 2016 a paper was published in Science that requires an immense worldview shift in how we study and interpret forestry results. "Belowground carbon trade among tall trees in a temperate forest", by Tamir Klein et al. (2 pages), is a must-read for all Torreya planters. Planting Torreya seeds or seedlings beneath a mature deciduous canopy will ensure drought and winter-wind protection, while offering opportunities for the young trees to receive sugars from the canopy via fungal root connections — so long as canopy trees include those using ENDO (not ECTO) mycorrhizal types. Note: This recommendation is an addition to the "Encouraging Symbiotic Mycorrhizal Fungi" section on the Torreya Guardians Propagate webpage.
---
2016: New occurrences of FREE-PLANTING success
Shoal Sanctuary, Florida. May 2016 (by Chris Larson): "We searched Grotto Ravine yesterday and are happy to report five more sprouts. The count is now 11 of the 40, alive and well. Most are in wetlands but one is ten feet above a creek, fairly dry. I'm documenting every observed detail. June 2016 (by Chris Larson): We're a bit concerned. All 40 of the Shoal Sanctuary seeds were planted at only 1 inch deep. One was dug up within a month. This year we found 11 seedlings in May. Went back to check in June: 2 seedlings have vanished, but 2 others elsewhere have now sprouted. So we are still at 11 of 40 and counting.

Greensboro, NC. NOV 2016: Nelson and Elaine Stover revisited all the planting sites. None of the 20 seeds planted from the autumn 2015 seed stock are yet visible above ground. But 10 of the 30 seeds of the 2013 harvest had visible sprouts (a germination rate of 1 in 3).

Southeastern Ohio:
After two winters in the ground, 3 of the initial 18 seeds "free-planted" were visible above ground in June 2016. All 18 seeds had been intentionally planted on very steep slopes in full-canopy deciduous moist forest in a ravine. The intent was to ensure that no buck deer would be able to rub against a torreya sapling to dislodge antler velvet. All 18 seeds were planted shallow in the soil, with no rock protection — and all 3 successes are very near downed logs or large branches.

Conclusion: As of 2016 Connie surmises that free-planting Torreya taxifolia seeds directly into forests with no rock protection will yield severe losses owing to seed-herbivory.

TWO POSSIBLE EXCEPTIONS that need further testing:

1. Perhaps burrowing, seed-predating voles and chipmunks may be rare on very steep, moist slopes indicative of year-round near-surface water seepage. Such slopes may simply be too moist (or subject to tunnel-collapsing solifluction) for the little rodents to establish below-ground tunnels.

2. Perhaps planting seeds 4-inches deep into forest soils will help the seeds evade rodent detection. (One experiment is underway.)
---
MARCH 2016: Posting of 2015 v. 2006 measurements, BILTMORE GARDENS, NC
In 1939 Chauncey Beadle supplied the Biltmore Estate with a dozen Torreya taxifolia seeds or specimens collected in Florida — prior to any understanding of climate change and endangered species. Now this 75-year-old grove and its offspring are precious for securing the wellbeing of the species and for demonstrating that (with little human help) North Carolina is an ideal habitat for escaping the native diseases of a now too-warm Florida.

LEARNINGS: Torreya grows slowly; evidences none of the diseases afflicting the species in Florida; uses basal sprouting and ground-extending low branches to maximize access to sunlight when beneath a closed canopy. April 26 video shows 3 males in different stages of pollen ripening — possibly caused by differential access to direct sunlight.

Full information at Torreya Guardians Biltmore webpage. Also, click VIDEO below.


posted and narrated by Connie Barlow
---
JANUARY 2016 VIDEO OF TORREYA NATIVE RANGE IN FLORIDA
VIDEO: Site Visits to Florida's Endangered Torreya and Yew Trees

Connie Barlow presents 15 years of baseline photos and videos she recorded of Torreya taxifolia and Taxus floridana in their historically native range in Torreya State Park in northern Florida. This video offers visual baseline data, including the context and plant associates that remain in this once peak glacial refuge (where the ailing Torreya species was "left behind" and now decimated by a too-warm climate).
---
2015 VIDEOS OF REWILDING RESULTS & LEARNINGS (North Carolina)
FL Torreya to North Carolina: 2015 progress report (Waynesville, NC)

First video-documentation of fate of historic 2008 rewilding action of the endangered Torreya taxifolia from Florida to North Carolina. Connie Barlow films and narrates a survey of the 21 plants in wild forest on the slope of Eaglenest Mountain, near Waynesville. Most important results are both positive and negative, which help us ascertain the habitat preferences of this species (moisture, shade, slope, aspect).
FL Torreya to North Carolina (pt 2): 2015 progress report (Junaluska, NC).

Second half of video progress report on our 2008 rewilding to North Carolina. Key findings include recommendations for measuring vigor, perils of cohabiting with rhodies, long-term negative consequences of planting root-bound conifers, the stress of seedlings needing to re-orient growth to wild light conditions. Note: The final 12 minutes of the video include the Waynesville findings in the comparative assessment.
| | | |
| --- | --- | --- |
| | | Free-Planting Torreya Seeds into Wild Forest: 2015 report. Best practices discovered by Torreya Guardians in attempting to plant seeds directly into the soil of wild forest in the southern Appalachian Mountains. Preliminary results confirm that planting beneath flat rocks and beneath a thatch of branches were both effective in deterring squirrels. However, the results are mixed for voles. This video chronicles Connie's visit to the Waynesville NC site 17 months after planting seeds. |
FL Torreya to Franklin, North Carolina: 2015 progress report
Russ Regnery leads Connie Barlow on a tour of his young torreya trees. Topics include (1) the advantage of using a shading screen during early years if Torreya is in full-sun, (2) Torreya is vulnerable to winter sun and wind desiccation if not protected by a canopy, (3) advantages of planting near nurse trees for shading and sharing their symbiotic root fungi. "Free-planting" seeds from the 2014 seed harvest directly beneath the forest canopy is final half of video.
15b: Germinating Torreya Seeds: 2015 report

Jim Thomson, Lee Barnes, and Connie Barlow discuss what we all have learned thus far about how to germinate Florida Torreya seeds outdoors, in locales far north of the "historically native range" of this endangered conifer species. Seeds harvested from the same mother tree in the same year will span a number of years to germinate, even when planted under the same conditions.
---